Love Compatibility
Find out if your partnership will go all the way. Some Sun Signs naturally work well together, but others need to compromise to make it work!
Leo
Capricorn
6/10
Achievement: unlocked. Status: reached. Goals: crushed. That's the update when Leo and Capricorn combine their legendary leadership forces together in a partnership. Whether in love, friendship, or business, when these two set their sights on any prize, nothing could possibly stop them from attaining victory. 

Both the proud Lion and the hard-working Sea-Goat thrive on gaining entry into the upper stratospheres of society and are constantly seeking ways to stake their claim in the world. While others may see their outward-facing dispositions as extreme opposites, Leo and Capricorn know that what makes them clash on appearance is precisely what make them click as a couple.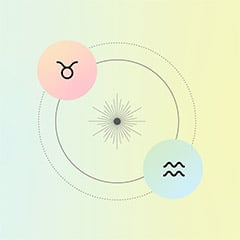 Love CompatibilityZodiac love compatibility is complex...
Find out whether you and your partner are a perfect match!

Leo is known for their charm, social graces, and dramatic appearance. These three descriptors would rarely, if ever, be used for Capricorn. This cardinal earth sign is often described as stern, stoic, and severe—all those Saturnian words that don't necessarily jive with Leo's solar, fixed fire qualities. These diametric oppositions will be what initially attracts this unconventional pair together in the first place, however. Each recognizes the skills and talents that the other person innately possesses that they do not have. Instead of resenting each other because of it, they want to work together to maximize their differences. In Capricorn, Leo finds the solidity they need to see their ideas take root in the ground. And in Leo, Capricorn sees the value in Leo's showmanship, recognizing it as a way of holding court, and wielding power and control in their respective right. 

Leo brightens up Capricorn's mode of defaulting to pessimism. Capricorn's discerning tastes and natural authority is something Leo respects and admires. Where they can run into conflict is when they forget that their differences are what keeps them united. Instead, it could lead them each to believe that those differences will be what drives them apart. If Capricorn is having a rough day, they may not sulk, but their trademark stoicism will make them even more tight-lipped than usual. If Leo attempts to use their charm or silly humor to get Capricorn to crack a smile and it doesn't work, Leo will instantly retreat and feel slighted. They'll wonder if Capricorn even knows what the definition of fun is (though Capricorn will be more than happy to provide the dictionary definition of the word). While Leo sees the value in hard work, they want to play hard, too. Leos require a spark of excitement and the promise of adventure as a reward for any toiling. Capricorn can see hard work and the satisfaction of a job well done as a reward unto itself. Capricorns carefully plan and routinely schedule dates dedicated to fun in allocated increments, and this will make Leo's wild spirit feel far too caged in.

No matter how they decide to partner together, these two make a dynamic duo in the boardroom or in the bedroom. And over time, these two may decide that a romantic partnership is not the most ideal blend of their energies. They'll know that if they have a business they want to launch, they have the perfect combination of creative inspiration, big ideas, and determination to see it through with a person who wants to see them succeed.
What does today's card pull mean for you? Get a personalized interpretation. Click here to get your first reading for just $1.99.