Love Compatibility
Find out if your partnership will go all the way. Some Sun Signs naturally work well together, but others need to compromise to make it work!
Leo
Aquarius
8/10
When cosmic destiny is calling, both Leo and Aquarius are there to answer. These two may be polar opposites on the zodiac wheel, but each takes pride in being open-minded enough to allow someone else to be uniquely themselves. In addition, they are both stubbornly loyal to anyone they decide to call a loved one. They both operate from a strong desire to help people and make them feel, do or be better. If these two opposites can learn to accommodate another person's point of view, they will have a dedicated partner, best friend, and potentially even lover for life.

Like a moth to a flame, Leo's fiery and Aquarius' breezy temperament will be an easy match for each other. Air and fire are two complementary energies in astrology. When one has an idea, the other will be there to encourage them to see it through. These are two signs equally blessed by the heavens with loads of creativity. Therefore, when one feels lacking in inspiration, the other will be there to give them a new way of looking at things—propelling them both with forward momentum. This is the harmony they will both cherish, one that comes of being with a person who shares your hopes and dreams.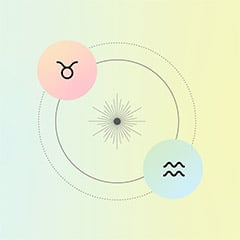 Love CompatibilityZodiac love compatibility is complex...
Find out whether you and your partner are a perfect match!

Together, they can combine their need to help people into an unstoppable force for good. Leo's warm and generous heart means that they have a genuine need to provide for others. (Even if they translate that into being a constant source of entertainment or an endless supply of energy for everyone else.) For Aquarians, whose solar expression is more about the other and society at large, they will gladly accept Leo's generosity—at least, once they understand and accept the Lion's noble intentions.

While Leo and Aquarius are open-minded to other people, they are not as open-minded when it comes to critiques about themselves. If Leo accuses Aquarius of being too aloof, Aquarius may provide them with a well-thought out, rational list as to why. When Aquarius natives get frustrated by their Leo partners' drama and demands, this can make a lasting and unknowing damage to a Lion's psyche. As two stubborn signs in the fixed modality, Leo will want what Leo wants, like perhaps a clearly defined relationship. Commitment-phone Aquarius may back into their philosophical corner and stick to their belief in non-monogamy. Whatever the issue is between these two, they may find arguments can quickly escalate. Left unchecked, both people's internal rigidity can quickly grow tiresome for the other. Half of their fun is in convincing someone else to play along with them, and if they can't, they'll take their child-like exuberance to a more willing play pal.

Fortunately, these two do have a number of mental and sexual sparks between them, and together can soar to new heights during their lovemaking. Leo and Aquarius will be very fascinating to each other, and they'll be stimulating and turned on by Leo's zest and Aquarius' vision. As long as both people allow each other the space they need, carefully calibrating what is too much and too little, these two understanding souls will be just what the other was looking for.
Speak to a live horoscope expert. Find clarity, connection, and a path forward. Click here and get your first reading for just $1.99!