Yes, Darling, Shopping Can Be Spiritual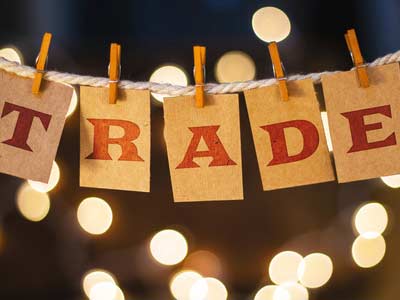 At the end of January, I found myself walking out of Aritzia on Broadway in downtown New York City, toting a bag containing an outsized, poppy-red sweater. It was exactly what my wardrobe needed, having survived two New York winters rotating the same three chunky knits. And, as an Aries, red is like totally my power color.
So why did I feel like I'd been punched in the stomach? Simple. My purchase was awash with GUILT. As I unpacked the sweater back at home and found a spare hanger for it in my closet, I realized I'd broken a promise I'd really only half-made to myself at the beginning of the year: to consume second-hand fashion only in 2017. And I couldn't even make it as far as February.
That half-baked promise obviously meant a lot more to me on a soul level than I'd acknowledged. And so I decided there and then to recommit to it. Besides lingerie, swimwear, and shoes, for me this year it was trends and fast fashion OUT, and consignment and vintage finds IN.
I can't remember exactly what sparked it, but like a large percentage of the global population (including the millions who took to the streets for the January 21 Women's Marches) I began this year with a pressing question on my mind and on my lips: What can I do to help?
Switching up my Zara habit for rummaging at my local Buffalo Exchange might not sound like a lot. But with #NODAPL all over my social feeds, I'd been feeling increasingly uncomfortable about the fact that, after oil, fashion is the second "dirtiest" industry on the planet. Think pollution, toxic chemicals, decimation of natural resources, sweatshops, landfill…I mean urgh!
Which is so not to get all heavy on your ass and make you feel guilty about your fashion choices! Or to suggest we should all be walking around in sacks made of hemp. But. Part of identifying as a spiritual being, and as such connected by spirit to all other beings on the planet, is acknowledging the impact of our actions—on our (human and animal) sisters and brothers, and on our Mama Earth.
So back to the fun part! Speaking of Buffalo Exchange (an amazing consignment store with outlets all over the US, which I was actually introduced to by none other than your Spirit Goddess Gala Darling!): I'd been taking my cast-offs in for a while and had racked up a few hundred dollars worth of credit—and that day I walked out with a whole Ikea bag full of amazing designer finds for basically FREE. I'm talking Helmut Lang, Alexander Wang, Elizabeth & James…good stuff you guys, and all in pristine condition!
I was even inspired by my haul to host a fashion swap event at The Standard Hotel in NYC on March 25, co-hosted by former magazine editor Sah D'Simone and stylist Anna Trevelyan, with all proceeds going to the Indigenous Environmental Network. The big message? Less shopping, more swapping. There are more than enough beautiful clothes out there to go around. After all, one woman's cast-offs are another woman's fashion gold.
Inspired to host your own swap party? The New Moon is a great time for clearing out old stuff, and once you have your date, you can just ask friends to bring clothes to donate over to your place. But set some ground-rules—like nothing that's totally falling apart or covered in stains. Turn it into a proper party by providing some snacks and pumping out some tunes. It could soon be your favorite way to shop!
Me, at right, with friends at our fashion swap!