Why Moonstone Is the Ultimate Crystal for Self-Discovery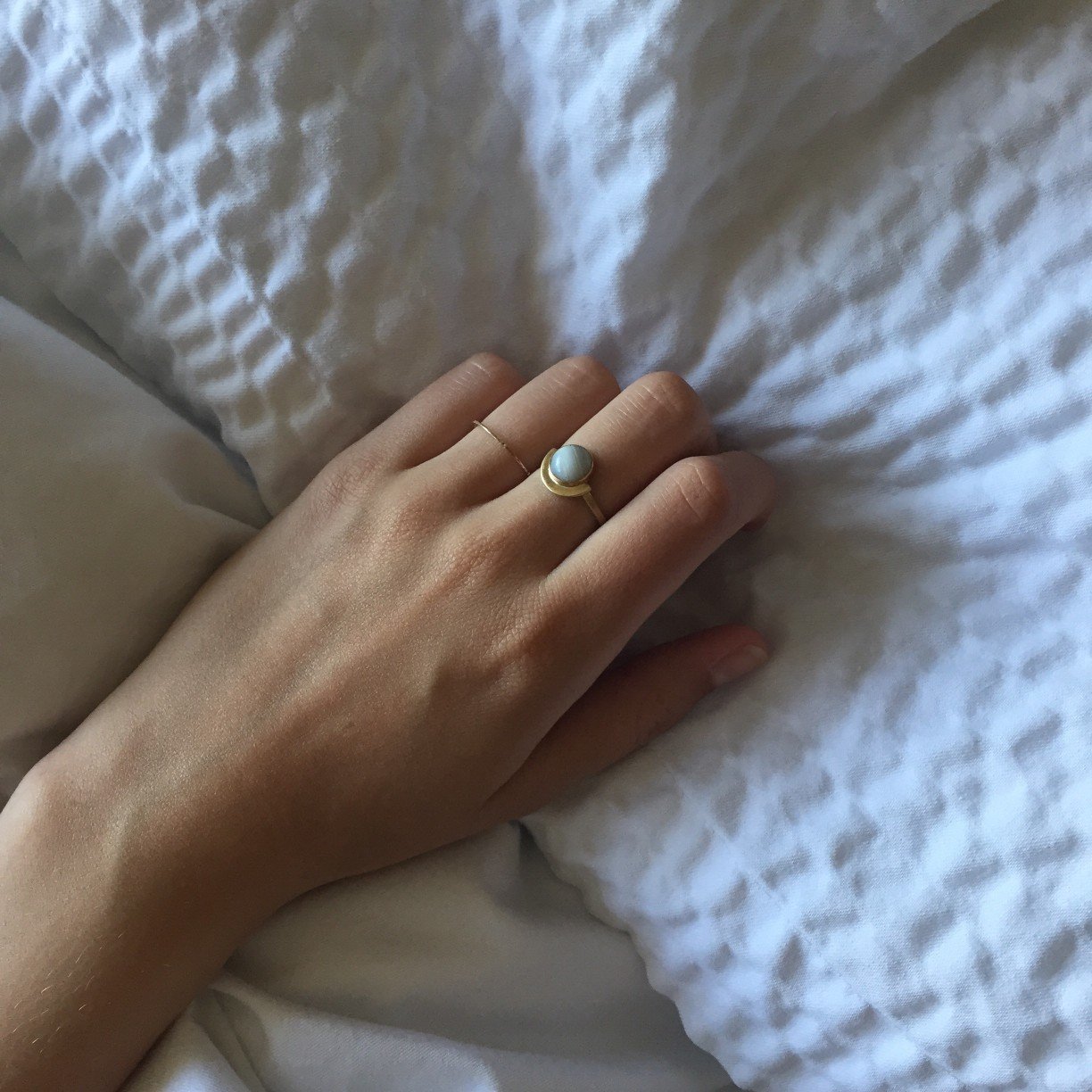 While crystals are having a moment of popularity, their age-old powers transcend fads and trends, and can be used in your life to make you feel calmer, more grounded, more courageous, and more in tune with your inner psyche. Twice a month, new Horoscope.com contributor and crystal expert Margaux Perrier will share her knowledge on crystals, including the best ones to use, how to use them, and how to incorporate them in your daily life. 
The Summer Solstice has just passed, and the transition from Gemini into Cancer is in full swing. A water baby through-and-through, I was born on June 21, but I grew up never knowing which horoscope to be looking at, as I fell on the cusp and it seemed to vary from magazine to magazine. The Solstice, aside from being the longest day of the year, is an action-packed time all about tapping into the sun's energy, activating the fire within to get inspired to create everything we want while embodying a free-spirited, enthusiastic mentality to express ourselves openly.
What exciting new developments will unfold over the next 12 months?
For a long time, I struggled away from my path, not knowing exactly what I wanted to do. That's a lie – I knew what I wanted to do, I just didn't know what steps it would require to get me there, and I was faced with the challenges of worthiness and believing in myself to make it happen. I went through the motions, and what felt like every emotion, exhausting myself by taking the long way around while putting endless hard work into everyone else's projects but my own. I felt so far away from my own goals that I started to question whether they were still the same. Was I still a writer?
Then I found Moonstone.
Moonstone, often called the Gem of the High Priestess, is the all-encompassing Divine Feminine stone, tapping into the introspective, mysterious lunar energy which provides reflection and illumination. Moonstone encourages self-discovery while providing a sense of stress release to harmonize emotions and allow you to open the door for a true and honest relationship with yourself, while deepening connections with the people around you. It forces you to bring unanswered questions to light, taking you on a journey through the distractions and excuses to find the source of what drives your spirit. Moonstone provides presence through conscious self-awareness, aligning you with your Highest Self to tap into what it is that your soul requires of its journey – that which will awaken your sense of purpose.
Read This Now: The Most Powerful Crystals for Your Zodiac Sign
This stone truly shifted my perspective, my modality in how I operated daily, and encouraged me to redirect my life, helping to unveil that which I already knew at a soul-level but needed reminding of. Since I began working with it I cannot be without one. Moonstone provides that clarity through unnecessary chaotic noise, leveling out tendencies of overactive thinking so that the progression can be made forward with focused intent. This opened the floodgates to endless possibilities for me, because I was finally able to access what I wanted and take mindful, powerful steps toward it without worry.
An important and unforgettable step when it comes to the Solstice (or any time of year), is to remember that in order to take that solar energy and run with it, you need to first work with the meditative energy of the moon. It's the yin-yang duality: without one, you cannot successfully have another. Instead of burning yourself out, spending energy and wasting time hiding your talents while pedaling for someone else's gain, why not discover who you truly are and what you dream of in life to successfully create your goals?—Margaux Perrier 
Margaux Perrier is a writer, jewelry designer, and creative. Find her on Instagram
Photo: @teigan via Twenty20