Taurus Celebrity Stars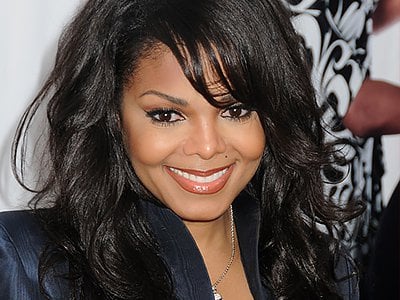 Don't ever let anyone tell you Bulls are dull! Venus-ruled Taurus natives possess a multitude of fascinating attributes, thanks to their mellow nature, amorous sensuality and pragmatic common sense. Taurus is of the Fixed Quality and Earth Element, and Bulls adore their own backyards, kitchens, and bedrooms! Taurus individuals are very artistic and creative, and often possess a lovely singing voice. Add to the mix the Taurus love of domesticity, fond affection for friends and family, and lovely eyes, and you can see Taurus is quite a catch, as both a friend and a lover!
Janet Jackson (May 16, 1966)
Control is an aspect superstar Janet Jackson needs in her life. As a Fixed Quality and Earth Element Bull, she wants to make her own choices, and she fired her father Joe as her manager early on in her career. Control is also the title of Janet's breakout 1986 album, the record that allowed her to demonstrate her powerful style to the world. Janet is the youngest member of the illustrious Jackson family, and the sister of late pop icon Michael Jackson. She worked in show business from an early age, as an actress in the TV shows Good Times, Diff'rent Strokes and Fame. Taurus is associated with fashion, and Janet's famous wardrobe malfunction during 2004's Super Bowl halftime show propelled her and Aquarius Justin Timberlake into primetime news. Taurus natives value their privacy, and Janet's 1991 marriage to Rene Elizondo, Jr. was kept secret from the press for nine years, until they divorced in March of 2000. Typical of a Taurus, Janet has stated she has a bad temper, but she needs to be pushed to reveal it. Taurus natives are very mellow until you wave a red flag in front of them, and then they will rage!
Renee Zellweger (April 25, 1969)
Renee captured audience's hearts from the moment they saw her on screen in Jerry Maguire, starring opposite Tom Cruise. Renee hails from Katy, Tex., and she developed an interest in acting via her involvement in her high school drama club. She took acting classes at the University of Texas, and began to audition for movie roles after graduation. Renee won parts in the films Reality Bite and Empire Records before her big break with Jerry Maguire in 1996. Taurus natives love to eat, and Renee was not afraid to put on 20 pounds for Bridget Jones's Diary. Taurus natives have a well-developed sense of humor, thanks to their earthy view of life, and Renee has a natural comic ability. She also has a dramatic side, and she scored an Oscar for Best Supporting Actress in the movie Cold Mountain. Her sweet wistfulness was put to good use in Cinderella Man and Miss Potter. The Bull has an affectionate nature and believes in monogamy. However, Renee's one and only marriage to country music star Kenny Chesney lasted only four months.
Penelope Cruz (April 28, 1974)
Take just one look at luscious Penelope Cruz, and you'll know she is a sensuous Taurus, ruled by Venus, the planet of love and romance. Penelope first wanted to be an actress when she was a teenager living in Spain and saw Pedro Almodovar's movie Tie Me Up! Tie Me Down!. Taurus natives are very determined, and Penelope eventually worked with famed director Almodovar in several movies, including Live Flesh, All About My Mother, and Volver. Penelope has the lovely large and bovine-shaped eyes of the Taurus, and possesses the voluptuous figure associated with ladies born under the Sign of the Bull. Her ability to project her Taurus beauty is why she is known as the Spanish Enchantress! Penelope has captivated many of her leading men, including superstar Tom Cruise, with whom she starred in the movie Vanilla Sky in 2001, and she is now married to Javier Bardem. Taurus natives have a keen eye for fashion and design, thanks to their artistic traits, and Penelope and her sister Monica have a fashion line, Mango. Penelope won an Oscar as Best Supporting Actress for her role in Vicky Christina Barcelona and was nominated again in 2010 for the movie Nine.
George Clooney (May 6, 1961)
Gorgeous George comes from a show biz family, via his aunt, late songstress Rosemary Clooney, and his father Nick, formerly a TV newscaster. George went to Hollywood in his early 20s and lived in a friend's closet as he auditioned for parts. His big break came in 1994 in the hit TV show ER. George was married to actress Talia Balsam in 1989, and when he and Talia divorced three years later, he decided marriage was not his style and became one of the hottest bachelors for nearly three decades until he married again in 2014. Taurus natives are honest with themselves, thanks to their down-to-earth natures, and they are extremely practical and pragmatic when it comes to life decisions. George scored big movie roles in The Perfect Storm and Ocean's Eleven, and won an Oscar as Best Supporting Actor for Syriana. He was nominated for Best Actor in 2010 for Up in the Air. George spends much of his time at his villa in Lake Como, Italy, and is known for his liberal political viewpoint.
Megan Fox (May 16, 1986)
Foxy Megan certainly lives up to her nickname, thanks to Venus, her ruling planet. Megan trained as a dancer in her native Tennessee from age 5, and began modeling at 13. She broke into film via the Olsen Twin's movie Holiday in the Sun in 2001. Taurus natives have an interest in romance from an early age, thanks to their amorous natures, and Megan married Beverly Hills, 90210 actor Brian Austin Green. A Taurus is usually loyal in matters of the heart. Once the Bull falls in love, it can be difficult for natives of this stalwart Sun Sign to walk away. She filed from divorce but then months later announced she was pregnant again and they seem to be trying to stick together. Earthy Taurus natives are very realistic regarding their likes and dislikes, and Megan has stated she finds younger men immature. The Bull is usually very monogamous, and Megan has said that although she is very sexual, she has only had two major relationships in her entire life. Taurus natives worship beauty, and Megan has a tattoo of famed movie goddess Marilyn Monroe on her arm.