Sagittarius Celebrity Stars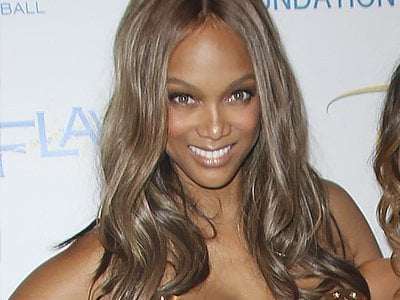 Sagittarians are blessed to have Jupiter, the planet of good fortune, as their ruler, and they usually have a lot of luck come their way as they gallop through life. Fiery and changeable Sagittarians are philosophers at heart, and their idealism will lead them on a quest to find Utopia at some point in their lives. The Centaur, the half-human and half-horse mythological creature, is the Zodiac symbol of Sagittarius, and yes, Sags are quite untamable at times! These lively souls have a real need to be independent, so keep that in mind if you become romantically involved with one!
Tyra Banks (December 4, 1973)
Luscious Tyra Banks is an adventurous soul. Sagittarius loves to roam like the galloping Centaur, the sign's Zodiac symbol. Tyra started modeling as a teenager. After graduating from Immaculate Heart High School in Los Angeles, she headed to Paris to become a runway model. Tyra quickly became a modeling superstar, working in Italy, Japan, and England. The Centaur covers a lot of ground! Tyra is of the Mutable Quality. She wears a variety of hats. In addition to modeling, Tyra is an actress and singer. She established her own company, Bankable Productions, which created the television show America's Next Top Model. Tyra was the host of her own talk show from 2005 to 2010. Sagittarius is a whirlwind of energy. Tyra's is a Fire Sign. She's always on the go. Sagittarius is known as the philanthropist of the Zodiac. Tyra is ruled by Jupiter, the planet of benevolence. She has a very generous heart. Tyra started TZONE, a program that teaches leadership skills to disadvantaged girls in the Los Angeles area. She added author to her long list of accomplishments in September 2011. Her novel, Modelland, is an insider's look at the modeling industry.
Miley Cyrus (November 23, 1992)
Miley's dad, country singer Billy Ray Cyrus, named her Destiny Hope Cyrus. He felt she was destined for greatness! Miley's mom and dad called their toddler "Smiley" because she smiled all the time. Smiley was shortened to Miley, and stuck. Sagittarius is ruled by Jupiter, the planet of positive vibrations. Centaurs are very jovial souls. On January 28, 2009, Miley legally changed her name to Miley Ray Cyrus, adding the Ray in honor of her grandfather Ronald Ray Cyrus. Miley grew up in Tennessee and decided she wanted to be an actress when she was eight years old. Her first job was on her dad's TV series Doc. Miley won the lead role in the Disney show Hannah Montana in 2006 and soon became a teen idol. In 2007, Miley's album Hannah Montana 2/Meet Miley Cyrus went triple platinum. Her singing tour sold out in minutes. Sagittarius doesn't shy away from controversial subjects. The Centaur tells it like it is. In December 2010, Miley was criticized when photos of her smoking from a bong circulated around the Internet. She claimed she was smoking salvia, an herb that is legal in California. We know now that she's currently pro-pot, and after a few years as a wild child, she seems to be toning it down again.
Jake Gyllenhaal (December 19, 1980)
Jacob Benjamin Gyllenhaal was born into a show business family. His mom, Naomi Foner, is a screenwriter and his dad, Stephen, is a Hollywood director. Jake's older sister, Maggie, followed him into the acting profession. Jake started working in films at age ten, appearing in City Slickers. Sagittarius is always up for a new project! These folks take steps to expand their mental horizons. Jake studied philosophy and Eastern religions at Columbia University in New York City in 1998. He dropped out of college to pursue his acting career. Jake's first lead role came in 1999 in October Sky. He next appeared in the cult classic Donnie Darko, endearing him to Indie fans across the globe. In 2006, Jake was nominated for a Best Supporting Actor Oscar for his role as a gay cowboy in Brokeback Mountain. Jake's is a Fire Sign. He has very strong passions. He was reportedly brokenhearted when actress Reese Witherspoon ended their relationship in 2009. Jake takes an interest in social causes. Jupiter, the planet of idealism, is his ruler. Jake has voiced his support for the American Civil Liberties Union and works with Future Forests, an environmental group.
Jennifer Connelly (December 12, 1970)
Jennifer Connelly started on her career path at an early age. She signed up with the prestigious Ford Modeling Agency when she was ten. Her first movie role was Once Upon a Time in America in 1984. Two years later she starred in Labyrinth alongside Jim Henson's puppets and David Bowie. Sagittarius loves to learn. Jennifer took time off from her acting career to attend Yale University in 1988. She transferred to Stanford University in 1990 to study drama. Later that same year, she left college to make The Hot Spot with Dennis Hopper. Sagittarius goes where the heart leads! Jennifer worked steadily in films throughout the 1990s. In 2001, she was cast in A Beautiful Mind opposite Russell Crowe. Jennifer won the Best Supporting Actress Oscar for her role. She's married to fellow actor Paul Bettany. In 2009, they starred together in Creation, a biography of Charles Darwin. Jennifer and Paul have two children, Stellan and Agnes Lark. Jennifer also has a son, Kai, from her relationship with photographer David Dugan. Sagittarius believes in helping others. Jennifer was the Amnesty International Ambassador for Human Rights Education in 2005.
Jamie Foxx (December 13, 1967)
Jamie Foxx started life in difficult circumstances. Born Eric Marlon Bishop, his parents abandoned him when he was an infant. Jamie was reared by his mother's adoptive parents, Estelle and Mark Talley. He learned to play the piano at age five, and he loved to sing. He was also good at sports. Sagittarius is very athletic. Jamie was on his high school's basketball and football teams. After high school, he studied musical composition at the United States International University. In 1989, he started doing standup comedy. He took the stage name of Jamie Foxx after comedian Redd Foxx, a performer he admired. Sagittarius has big dreams! In 1991, Jamie became a member of the hit television show In Living Color. From 1996 until 2001 he starred on The Jamie Foxx Show. Jamie is of the Mutable Quality. He enjoys new challenges. In 2005, he won the Best Actor Oscar for his performance as Ray Charles in the movie Ray. Jamie's second album, Unpredictable, was certified double platinum in 2006. Sagittarius can be tactless. Jamie has gotten in trouble over his blunt statements, notably his opinion of Miley Cyrus in April 2007.
Vanessa Hudgens (December 14, 1988)
There is much more to stylish and alluring Vanessa Hudgens than former High School Musical star and tabloid magnet. Vanessa certainly knows how to multitask, thanks to her Mutable Quality personality. She can sing and act, and her debut album, titled simply V, went gold in 2006. Vanessa was born in Salinas, Calif., and lived in many parts of the West Coast, including Oregon. Vanessa started her career in the entertainment industry as a young child, and she obtained her first gig in a commercial at age 8. Sags know their own minds at an early age and they are very independent. As an enterprising Centaur, Vanessa wants to be known for more than her success in the High School Musical series. She starred in the movie Bandslam in 2009, and her movie career and popularity soared. Vanessa keeps exploring her boundaries in typical Sag style, and is well equipped, as Forbes magazine named her one of Young Hollywood's top earners when she was 21.