Moon Magic: How to Find Balance During Saturday's Libra Full Moon
Welcome to Moon Magic, a new column appearing bimonthly on Horoscope.com. A powerful new moon in Pisces unleashes our intuitive power. Here. Jessica Wiggan, tarot reader, astrologer, and transformation coach, shares a ritual to allow the magic of the new moon in Pisces to open up to you and allow you to manifest your desires. This is a time to tap into your intuition and truly discover, explore, and experience the full, complex, and sometimes dark beauty of your subconscious in all its glory. Every full and new moon, Jessica Wiggan will share rituals, insights, and spells to make the most of these mysterious lunar transits.  — Horoscope.com editors 
There is a tense alignment in the skies this week and it's the Libra full moon that will work to highlight any issues of imbalance within yourself or surrounding partnerships. This Libra moon naturally rules beauty, balance, and relationships but again with so many planets creating tension in the skies and the full moon bringing out suppressed or dormant emotions, it is quite possible that you'll experience some kind of emotional eruption connected to a lack of balance within yourself or important relationships around you.
There is a point within the chart called the natal node that triggers karmic events and this moon aspects this point sharply. The lessons you are destined to learn in your life will begin to make themselves known now and will work to push you to move towards your destiny. Fear, hesitancy, and resistance are all replaced with bold actions, love, and openness.
Mercury retrograde lends his energy positively to this full moon. He (Mercury) allows you the chance to revisit and challenge old belief systems that no longer serve you and even revisit conversations that you may have been needing to have for a long time.
It's impossible—or at least very difficult—to ignore the signs and signals that come with this moon as most of the planets are placed in positions that empower and embolden them. The sun in Aries is bold and confident, Mars in Capricorn is strong and determined, and even Venus moves from Aries into the sign that she rules Taurus. Her move into this grounded sign brings beauty and sensuality to each of us… and a chance to care and tend for ourselves after what may seem like weeks (or even months!) of nonstop movement and stress!
Venus in Taurus can slow down to stop and smell the roses and again is a reminder of the delicate balance we should all strive for in this life- equal parts work and pleasure. It can't always be all of one or the other.
This full moon has the potential to bring fated lovers into our lives as Venus and Uranus are also meeting in the sky! Uranus rules the element of surprise and Venus rules love so I heavily suggest remaining open to what the Universe may have in store for you! For those in committed relationships, you will also benefit by remaining flexible and open. Spontaneous dates or factoring in fun for the two of you is encaouraged!
A Libra Full Moon Ritual: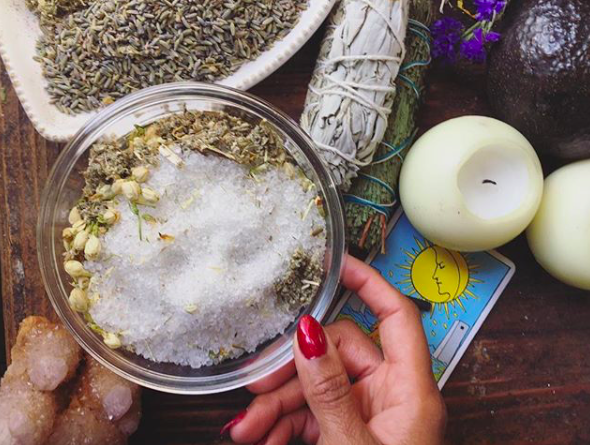 Photo courtesy of @BehatiLife on Instagram. Here is Jessica's full moon bath soak, ready for action! 
Because Libra rules beauty, love, and balance we'll focus on self-love ritual for this full moon! The intent of this ritual is make you feel grounded, beautiful, and secure- an excellent foundation for all love and abundance to build upon!
You'll Need:
2 parts Epsom salts
1 part Himalayan Salt
Rose buds or rose petals
Jasmine flowers
And lavender
Mix all ingredients in a large bowl or jar, preferably made of glass or wood the night or day of the full moon. You can save leftovers of this batch to use for a later day when you are feeling lackluster, low energy, or want a beauty 'boost'. Before using your ritual bath take a shower to cleanse your body while visualizing obstacles, stress, or tension melting away or being removed from your energy field. Visualization is everything so really take time to picture or say out loud that any stress, tension and obstacles are no longer welcome to stay in your energy field. After your quick shower, fill the tub with warm water and slowly pour in the self-love bath salt mix. Using your right hand, stir the water giving it your love and gentle positive energy. This charges the bath water and builds energy up before you even step foot into the tub. When the bath is filled and water is ready, ease yourself into the tub. While you soak visualize healing, love, and peace surrounding you now that you are open to receiving this energy. Lavender brings peace, rose and jasmine both bring love and the properties of this powerful trio attract self-love and love to you now!
Soak for as long as you need to and when ready, scoop up the leftover flower blossoms and carry to pot of soil in a plant within the home or dirt near your home and bury it in the soil. This brings and keeps love near you for the year ahead!"
—By Jessica Wiggan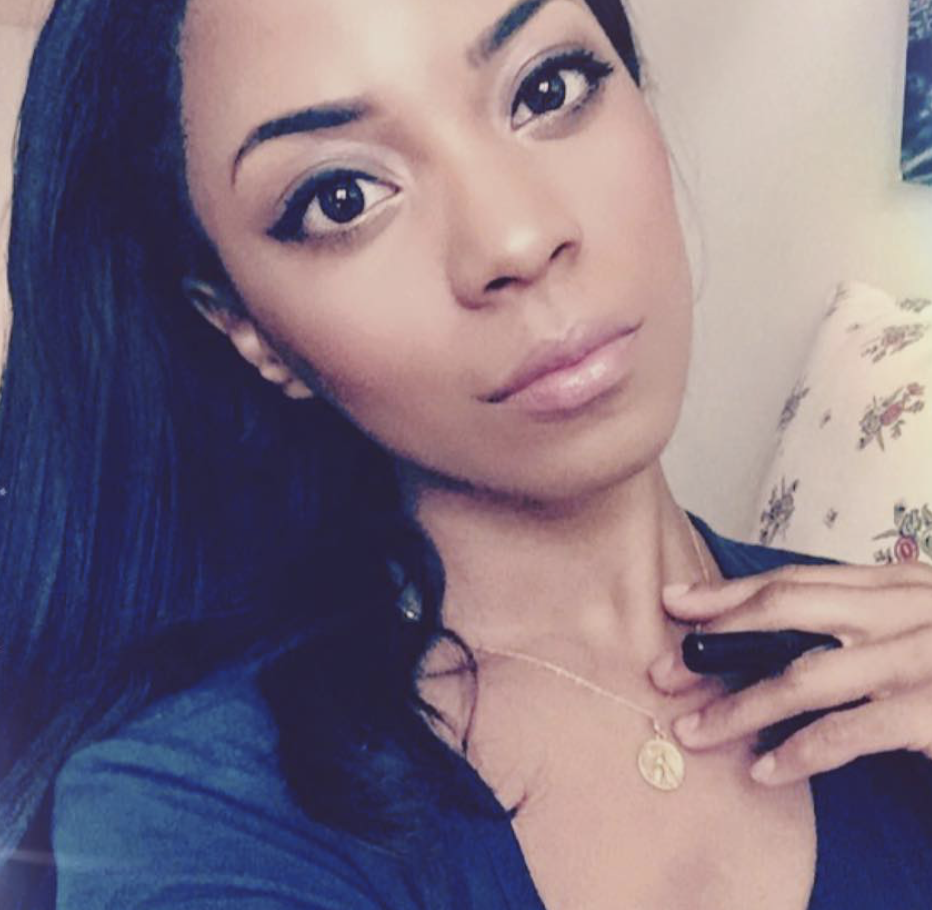 Jessica Wiggan is the creator of BehatiLife, an online apothecary selling custom, hand crafted magical blends. Jessica is available for tarot and astrology readings, and also runs an online Tarot school. Find her on Instagram. 
Have a Magical Week With These Articles! 
8 Simple Steps to Feel Amazing, Wherever You Are In Life
Before You Buy a Tarot Deck, Read This
How Seeing a Psychic Helped Me Figure Out My Life
Exactly Where and How to Find Love In Your Astrological Chart
Editor's Note: How to Find (and Keep) Good Vibes