How Will Tomorrow's Cancer Super Moon Affect Your 2018?
Tomorrow, a full moon in Cancer heralds the beginning of a new year. As with all full moons, this moon bring intense energy and stirs up emotions. And when it kicks off a new year and it's closer to us, appearing brighter and bigger than ever? Woah. Here, what you've gotta know and do to use this full moon to the fullest, both on New Year's Day and beyond.
The Backdrop
The full moon on January 1 is also known as the Wolf Moon, the Hunger Moon, or the Cold Moon. Traditionally, this moon has always been a moon to allow us to tune in and reflect to what worked—and what didn't—in the previous year, and commit to new paths and purposes for the year ahead. Despite the name, it's a moon that can be nurturing, allowing you the opportunity to forge deeper connections with friends, family, and lover. This is especially true this year, as the full moon is in Cancer, the sign ruling emotions, relationships, and deep, almost psychic bonds.
A Ritual for Singles Who Want Someone in Their Life
Because the full moon is in Cancer, it's a great opportunity to call in the one—the person you want as a permanent plus one in your life. Of course, the full moon can't bring bae straight to your doorstep, but it can strengthen your intentions. On the New Year, spend the day decluttering. Make sure there is physical space for someone else in your life. Is your closet crammed full of your stuff? Subconsciously, that's a way of saying you don't have room for anyone in your life. It sounds crazy, but consider leaving an empty drawer for your future partner. Making physical space is a way to clear out the emotional and mental clutter in your life. Look around at the pictures on your wall, and consider adding a few images of in-love couples (either snaps from family members or ancestors who've had successful relationships or iconic art, like the one below of the seminal kiss in the rain from Breakfast at Tiffany's. Seeing these images can help cement what you want in your mind. Finally, act like you have a partner! Heading out to the store? Write a love note and leave it on the counter. It's not like you have an imaginary partner, but what you're trying to do is act as if—which can help manifest it IRL. Try it!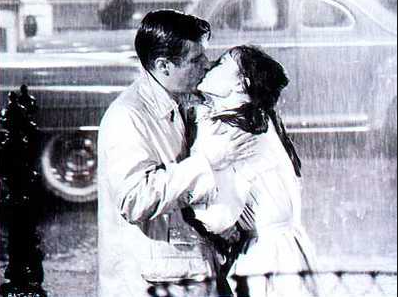 A Ritual for Couples for Deeper Connection
This Cancer full moon comes at the perfect time. As idyllic or stressful as your holidays may have been, relatives, friends, and obligatory family parties have likely competed for your attention. Today is all about reconnection. If you can, make no plans today. Create a joint vision board or list of what you want to accomplish as a couple in the next year. As the full moon rises, go for a walk outside under it's light. Cold? That's okay. The cold can remind you that sometimes, you struggle in a relationship—but it's better to struggle together. Kiss under the full moon. Feel each other's breath on your skin. Realize your love is just another element, just like the cold wind on your faces. If you can, cozy up in front of a fire later and stare at the flames together. Revel in your connection.
The Future
This isn't the only full moon on the January calendar. There is a Blue Moon Lunar Eclipse on January 31. This "blue moon"—a name for the second full moon of a calendar month—can help solidify your intentions from the previous full moon. Happy Full Moon and happy New Year!
Get Ready for the New Year With These Articles!
The Best Self Help Books of 2017: Read These to Get on Track
9 Strategies That are Better than New Year's Resolutions
11 Questions Everyone Should Ask Themselves in the New Year
Need a Fresh Start to the New Year? Consider a Reiki Treatment