How to Pick Someone Up With the Help of Their Zodiac Sign
So you're at the neighborhood bar and scope out a cutie that could use a bit of your charm in their life. Then, lucky you, you've managed to catch a glance at their license when they handed it over the bartender. Now you know their sign and have determined you wouldn't mind testing out your compatibility, you are itching to make the next move. What do you do next? You check out their sign below for some useful tips and get your mack on.
Make 2018 your year! Here's how! 
 
 Aries
If your hottie is an Aries, just remember they love folks that are as passionate and high energy as they can be. Confidence, boldness and high self worth is the key. If you're looking to pick up an Aries, there's a delicate balance between showing them that you've got this and allowing them to take the lead when they want. Make sure your best features are proudly displayed. Finally, don't be scared to challenge your Aries while conversing, they want beauty and brains, and absolutely won't judge you for taking things fast.
Taurus 
A Taurus will always appreciate someone who shows they are loyal, sensual and consistent. They aren't the jealous type, but once they reciprocate your interest, be sure you aren't off in the corner flirting with someone else. This is a surefire way to lose their interest. They also appreciate someone who makes the first move. Finally, don't be scared to take things slowly. A Taurus savors a traditional courtship, they appreciate being wooed. Invite them on a proper date. Remember your manners.
 Gemini 
Geminis love to talk, learn and exchange information. If you really want to get on a Gemini's good side, ask them about their hobbies. They will be eager to share the ins and outs of whatever their fancy is. Make sure you ask a lot of informed questions, they truly appreciate someone showing interest and enthusiasm for the things they are passionate about. Finally show them you have your own interests and love to learn. Aim to make love to their mind and they might let you have their bodies.
 Cancer 
Cancers are emotional creatures and love to nurture and care for those they love. They want to feel like you really care for others and are in touch with your emotional side. Tell them about the charities you are passionate about or the nursing home you volunteer with. Share the latest photos of your nieces and nephews. Suggest cooking your favorite recipe for them as a date. Don't be scared to mention the new candle holder and candles you picked up from Ikea that you've been waiting to share with someone special.
 Leo 
Leos love sparkle, flash and glitz. They are attracted to folks that light up a room when they enter it. They also really, really love compliments. Tell them how beautiful their eyes are or how they stole your attention the moment you laid eyes on them. Mention that you scored reservations at the hottest new restaurant in town and would love to take them. A Leo loves to feel like they are the center of your world, make sure you focus in on them like they are the only other person in the room.
 Virgo 
Virgos are known for their cleanliness, organization skills and meticulousness. Before you make your move, it doesn't hurt to pop a mint and spray a dab more fragrance. Check those fingernails as well. Ask them about the projects they are working on or for tips on how to organize your closet. Don't be scared to pretend you lost your wallet or keys, requesting their help. Virgo is all about service and this is an easy way to help them be true to that.
Libra 
If you want to win the attention of a Libra and stand out against all of their other suitors, be prepared to bring your charm game. Libras live for romance and appreciate being wined, dined and charmed. Shamelessly flirt with them, showing off your gift for banter. Tell them all about the charity gala you recently attended and how you love to get dressed up for a glamourous night out, but wished you had a date to take to the next one. Share your knowledge of wine. Be an excellent kisser, for Libras always appreciate a skilled lover.
Scorpio
Mystery always wins with a Scorpio. They are sensual, secretive and deeply intuitive. They are also born seducers. Picking one up is no easy feat, and even when you do succeed, you might later find out they really picked you up. Scorpios appreciate someone who listens carefully, is confident and passionate. They want to feel like you are curious about them for the right reasons, if you aren't they will see through to your intentions and quickly dismiss you. Be genuine, honest and open with just a hint of mystery, sparking their curiosity and desire to learn more about you.
Sagittarius 
Sagittarius loves a good adventure and your goal when trying to pick one up is to convince them that you saved them a first class seat on the coolest adventure they've never heard of. Ask them about their latest trip or what books they are reading. Talk with them about your favorite cities. Don't be scared to discuss philosophy with them. Finally, be sure to keep the jokes coming, they love a good laugh. As one of the more laid back signs of the zodiac, they will pick chill any day of the week.
 Capricorn 
It's not always all work and no play for Capricorn. They are suckers for seduction just like the rest of the signs, even if it's hidden behind their practical, harding working sides. With Capricorn, you need to take it nice and slow. Appeal to their traditional nature and properly court them. Mind your manners. Show that you are reliable, responsible and have your life together. Share your ambitions with them. Ask them about their career goals. Invite them to a brainstorm session about your latest venture over dinner.
 Aquarius 
This is one sign that will appreciate your quirks so let them shine when trying to pick one up. They tend to go for the rebels and the revolutionaries, for people passionate about changing the world or challenging the status quo. Ask them about the projects they are involved in or if they could suggest any associations you could join if you wanted to make more of a difference in the world. Pursue a friendship first with an Aquarius; they value a good friend as a lover.
 Pisces 
If you've set your eyes on a Pisces, be ready to transport them to another world, as this is where they thrive. Share your last experience at a museum or an art exhibit so they know you are cultured. Invite them dancing or to a listen to a Native American drum ceremony. Be sure to show them how responsible and grounded you are, as for them to truly fall for you they need to be confident you are stable and will catch them.
Want more spirituality, mysticism, and advice for bringing your spirit to the next level? Follow us on Instagram. 
Want to know if love is in your future in 2018? Here's how to find out!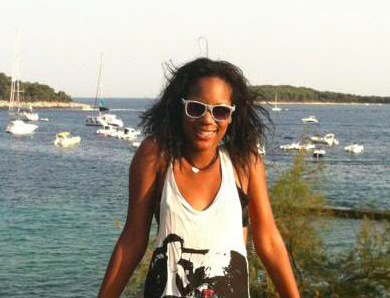 Shereen Campbell is an astrologer, ecommerce manager, and the founder of My Little Magic Shop. She loves sailing, southern Italian food, and all things magical.
Add more ritual to your everyday life with these tips! 
One Candle Can Change Your Life. Here's How. 
Cleansing Rituals to Get Over a Bad Day
A Sex Magic Spell to Enhance Your Soul
Connect to Your Shadow Side With this Ritual
5 Relationship Habits to Connect Your Soul to Your Lover