How to Get Over Your Ex Using the Capricorn Full Moon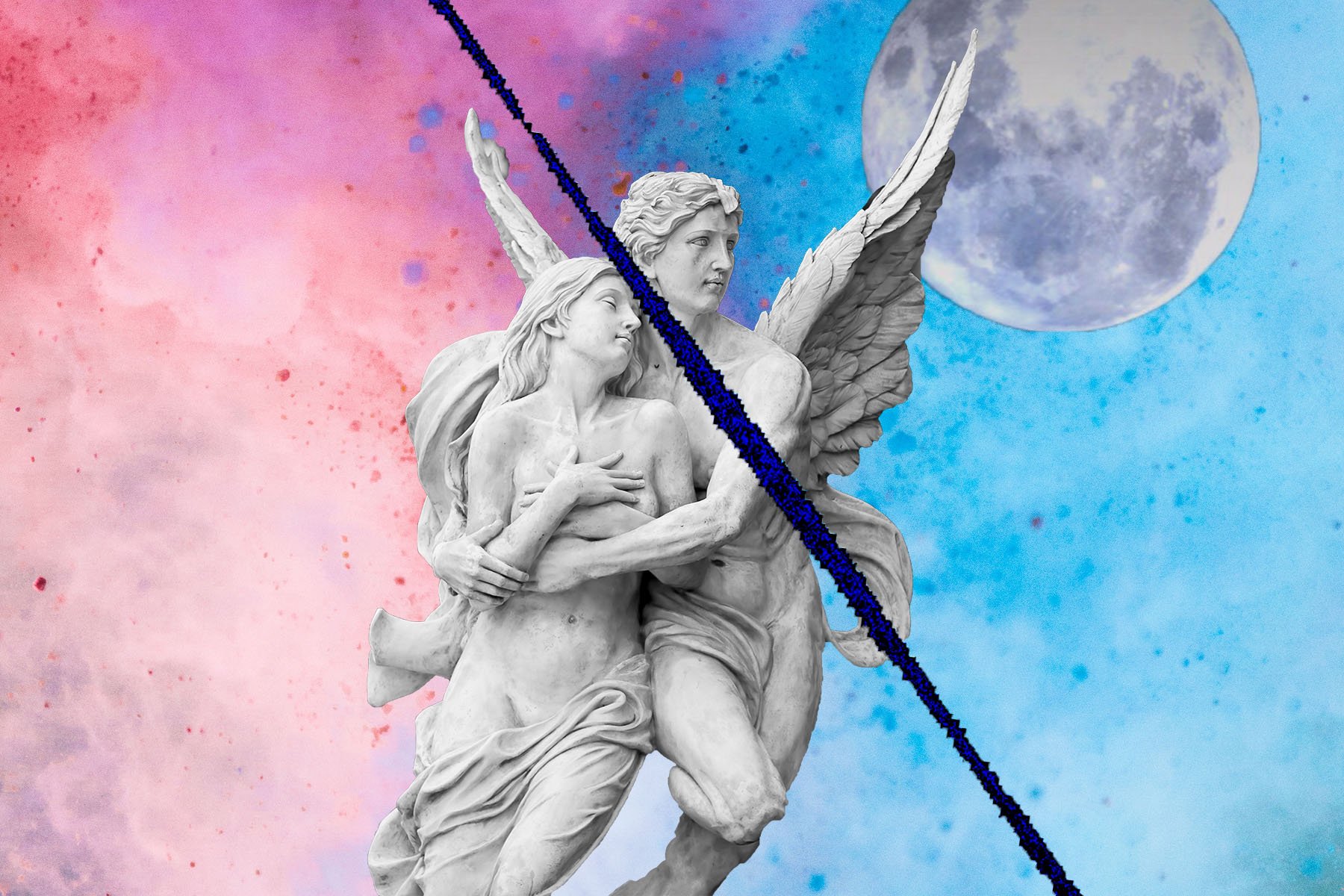 Smack dab in the middle of nurturing Cancer season, on July 16, 2019 at 2:38 pm, we'll be greeted with the "get real or move on" influence of a powerful Capricorn full moon—in conjunction with a partial lunar eclipse, no less! During Cancer season, it's tempting to retreat home and lick our wounds, but Capricorn encourages us to get up, dust ourselves off, and fight for our dreams another day.
While full moons are definitely known to surface some major emotions, this one in particular has an eclipse behind it—which means its power will be sent into overdrive. And with Neptune retrograde at play, you may be finding it hard to determine what feelings are real.
Because of it, this moon is a time for high drama! Things may feel fast, furious, and dramatic right now (full moons tend to have that effect), but Capricorn is ultimately a steadfast and practical sign, so you should be able to find your footing soon enough. Ultimately, that makes now a great time to release things (or people) that no longer serve you. With the sun in emotional Cancer juxtaposing the moon in "no nonsense" Capricorn, it's the marriage of head and heart. Feel your feelings, but embrace your power in doing what needs to be done.
Read This Now: 10 Things You Should (and Shouldn't!) Do During a Full Moon
All this is serious work and can sometimes get you down (neither Cancer or Capricorn are known for their optimism), especially when you're tasked with battling the fear of the unknown that comes with letting go. Trust in your power and potential—change is part of life, and you're on a path that will continue to be revealed.
We've got the best ritual to help keep you confident.
'Lover No Longer' Candle Ritual for the Full Moon in Capricorn
https://www.instagram.com/p/BwTzNpxHYO3/?utm_source=ig_web_copy_link
A full moon in combination with an eclipse is the perfect time to do some energy work, especially when the sky is supercharged to help you release the past for a more harmonious future—so don't waste it!
The relationships we are asked to release, though, are typically the hardest to let go of. We're energetically tied to people, relationships, and experiences from our past and present. So while our own energy is powerful and distinct, it gets tangled with others, and that's why it feels hard to let go or move on.
A cord cutting ritual like this is a simple way of unweaving your energy and moving ahead. To do this, it's important to understand what cords you're cutting, what negative patterns they represent, and to whom they relate.
Ingredients:
Sage or incense
Black thread
Instructions:
Start by cleansing your chosen space with incense or sage. If possible, open a window to clear out some of the negative energy you'll be releasing. If you have access to a space where you can see the moon, all the better.
Light a white candle and close your eyes. Think about who, or what, you'd like to let go. (Hint: You can also do this ritual to release certain dynamics of a relationship, without cutting yourself off from the rest of the person.) You may choose to write these things down, along with your fresh desires and intentions.
When you're ready, visualize the trauma and negative associations while holding a piece of string or thread. Black thread is the standard, but you can also choose a color that represents your emotions or connection. Cut the cord down the center, and burn the halves. (Remember to practice good fire safety!) If you're using crystals to amplify the ritual, cleanse them, then remember to charge them under the full moon for maximum power over the next month.
Read This Now: How to Make Moon Water
Full moon affirmation:
I release the ties that keep me trapped in the past and that which no longer serves me. I welcome growth, change, and new blessings. I accept that endings lead to new beginnings.
 Lead photos courtesy of Twenty20; Designed by Horoscope.com