How My Intuition Led Me Across the World When I Was 4 Months Pregnant
 Angie Banicki, a tarot reader, intuitive, and Horoscope.com's newest columnist shares what's going on cosmically this week—and how to make the most of it. For best results, read Angie's words as you follow along with her Spotify picks—links to songs appear, and changing it up and listening as you read can help you truly tune into her advice. 
Want 2018 to be the best year ever? Start prepping now with your 2018 horoscope!
I've had this love affair with travel ever since my 30th birthday when I went traveling alone inspired by the people in my life. For 30 days, I followed their example and experienced the things that brought them joy on my own solo journey around Europe. And from that trip on, I allowed myself to keep following that travel bug. I continued to be inspired, learn more of myself and create a life that fit with my need to explore.  I found a way to get clients in my marketing work to let me work from abroad. And somehow the work became easier and I accomplished more—I'm pretty sure because I was on the path I was destined to follow- and at that time it was travel. I remember those years as the years I was soaking up different energies, different ways of being from different and some very spiritual places around the world.  
(listen to: The Best Is Yet To Come – Remastered ) [The Frank Sinatra Collection] – Frank Sinatra with Count Basie And His Orchestra)
Imagine spinning the old school tuner of a radio dial to the station of your kind of music, well mine sped through a lot of what felt like 70s, easy listening, classic, folk all in one year.  And then stopped at last summer when I found myself pregnant in my long-distance relationship(SURPRISE!) and quickly saw my future being fast forwarded into living with someone, partnership, baby, and family.  
I knew I had to get in one last solo journey before I stepped into this new genre of Disney tunes. And that's how my bridge from solo hermit to mom began: with an intention.  One more for ME.
(listen to: Song For Zula – Phosphorescent)
But how the heck was I going to manage this? I was now a tarot reader making way less money, I had doctor's appointments for the baby, and a whole new experience of having this human inside me. I didnt know when my boyfriend was moving in, when he'd have a job, if we'd have the baby in the same home I lived in. There were a lot of unknowns. I decided to keep my intention then release the need to figure it out, yet.

The one thing I felt sure of as I crossed my bridge getting closer to motherhood was to continue practicing yoga along the way
(listen to:. Best Day Of My Life – American Authors)
I felt so connected to the baby in those moments. I remember walking out of the yoga studio sweaty with this new growing belly feeling so happy, with so much feeling, and with tears in my eyes.  It was as if the baby was in there just loving life and wanting to tell me how excited she already was. I channel through music and I left one class—just knowing the baby was there wanting to share with me. I got in my car asking for a sign and the song Time To Move – Carmen  came one.  It begins with a baby giggling.  I giggled with her the whole drive home.
I kept thinking I want to feel this connection as often as I can! I think almost any mom-to-be would agree!  I dont know how to explain it other than magic!  Butterflies time ten.  
So that is how the baby sent me on an exploration for a yoga intensive. 
I searched online. I called my doctor.(who btw was a dream: "Angie I trust you to follow your instinct on this – just no countries with Zika and you better do this soon!)  I avoided Zika.  I couldnt afford to be cush.  I had a very limited time zone so if I were to travel far I had to do it soon.  I was already almost 4 months. No Mexico – zika. No Bali – zika. No US – too close to Christmas so no-one had classes. India?  I think it was 2 in the morning sending multiple notes to yoga classes around the the world for over 2 weeks when I found the ONE yoga intensive that fit all my requirements and also would accept a 4.5 month pregnant lady into their program.  
And lucky for me, I had supportive loving parents who changed holiday plans to fit with my plan and an even more supporting loving boyfriend who said he was worried about me being so far but trusted that what I felt I needed to do, he would be there and support me.  He even paid my rent so I could afford to take that time off work while I was away. (And I did Skype readings on the weekend to pay my bills).
Some people call it the pregnancy glow. Others say baby's give you extra energy. I felt like I had this magical fairy sprinkling fairy dust around me lighting up pathways for her life and mine.  You see baby's energy is PURE SOUL LOVE.  So when we are connected to that and have positive intention around it, they bring only beautiful blessings. Of course my baby wanted me to go do yoga in India.  She got to feel more connected to her mom every day almost all day!  Baby you're casting your spell on me
listen to: Oogum Boogum Song – Brenton Wood)
And oh boy did we connect! We lived in a temple. And everyone else who signed up for the small class ended up not able to commit so I had a personal spiritual guru teaching me and guiding my connection to my baby soul through yoga and breath.  Every morning we would walk around the beautiful serene lake of Pushkar and pray. And then do yoga and learn about yoga, breath, and connection. 
listen to: Got To Be Real – Single Version – Cheryl Lynn  
Sidenote.  It wasn't all easy.  I'll never forget the day multiple people reached out to tell me I was making a huge mistake and potentially putting my daughter in harm. "Angie, a remote village in India, the water, the food – you need nourishment, this is dangerous." " Angie, I had a friend who had to spend a week in the ER in India because of the water, food and dehydration.  It's not clean for a mother."  
I felt my intuition couldn't guide me wrong but when friends say they are looking out and trying to protect you, you have to sit with yourself and really listen. Really feel because for the first time in my life, this wasn't just about me, this was about another human being, my daughter. I had no fear for me but is this best for her? I really struggled that day. Getting mad at the people who truly were just using their limited experience to help me.  Feeeling  like maybe I was being wild and independent not what a mother is meant to be. Then feeling sorry for myself that I had to make these choices. And I'll never forget I was on the bike at the gym and it just hit me—truth. This is my life. I will be the mother who shows my daughter how strong and beautiful it can be to do things my way. To create a life for the both of us that feels one of a kind and creates a special bond that only we will know.
And you better believe as travel does, I got so much more out of it than I had expected. By the end of that trip, all I wanted was to be taken care of. I wanted my boyfriend there to help me when I felt the baby pains and pokes. To be there sympathizing with the nausea and hormones.  In the way, I never had as independent do it yourself woman. I needed to have that last bout of independence to get me ready to live with someone full time and actually not just one other but two!  
And now as my daughter's one year birthday approaches, I continue to follow my heart and mother's instinct in the big decisions we make for her and our family. As a mom, I believe that connection the best preparation you can do for you and your children.  In my independence I got inspired by the people in my life and as a mother I let my child inspire me!  And I'm constantly surprised at how my daughter and our connection helps me grow as a mother but also as a human!
(listen to: What's Your Trip – Original Mix – The Summits)
Feel the vibes by listening to my complete Spotify playlist here: Starred – Angie Banicki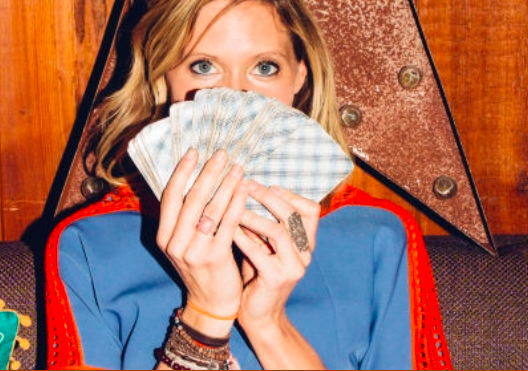 Angie Banicki is a high-profile entertainment publicist turned tarot card reader to the stars. What started as a hobby is now a full time job and lifestyle that is all about living with awareness and intention.Read her January Horoscope.com column here!
Want 2018 to be the best year ever? Start prepping now with your 2018 horoscope!
Read Angie Banicki's other columns here:
4 Ways to Feel Happier Right Now
Want Big, Bright, Beautiful Love? Call in Eclipse Energy!
A New Moon Party Can Enhance Your Social and Spiritual Life