What You Need to Know About Daily Crystal Use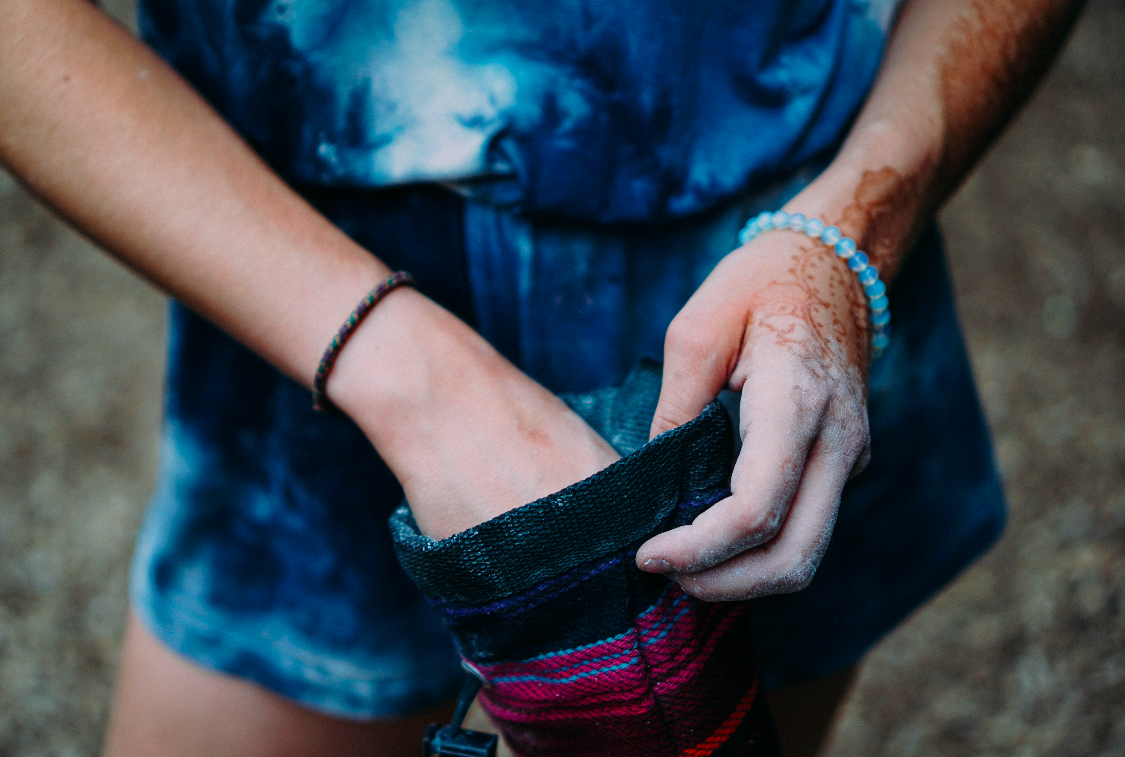 Crystal expert Margaux Perrier shares how she incorporates the magical stones into everyday use.
"So, what do you do with crystals? And how do you use them?" I get these questions all the time, and they are some of my favorites. Simply put, aside from meditating with my stones and keeping them all throughout my environment, I see crystals used in fun ways like in candles, makeup production processes (I'm looking at you, Glossier Haloscope!), and in home décor like bookends or coasters. I've compiled my all-time preferred ways to use crystals daily in simple, beautiful, modern ways that make it easy to take positive vibes with you through every step of your day.
What is your greatest wish? Find out if it will come true now…
With a love that runs deep for how empowering, striking and energetically inspiring crystals are, I decided to marry my desire to create with the sheer adoration for the metaphysical into wearable, delicate crystal pieces. My jewelry line is, like me, forever evolving. I embrace the hunt for balance and personal growth while maintaining a strong vision of self-expression. Since the beginning, designing jewelry has brought me nothing but joy, and I absolutely love designing pieces that can stand on their own, mix well with each other, and work with unique pieces from your own collection.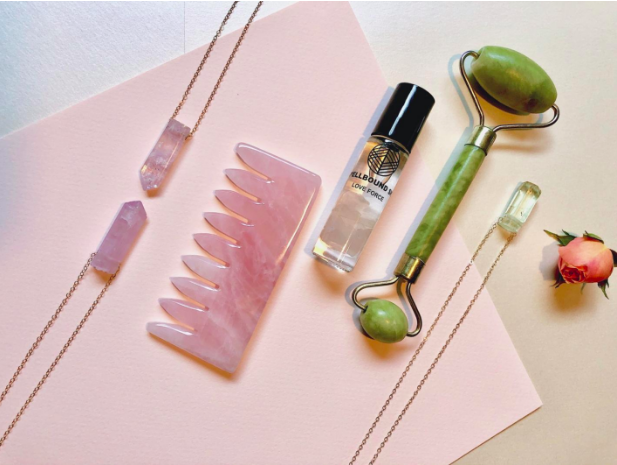 Photo: Margaux Perrier Jewelry; Crown Works Crystal Comb; Spellbound Sky Essential Oil Potion; Jade Beauty Roller
There has been a whole lot of hype buzzing around the beauty industry for Jade face rollers. Jade has long been treasured throughout Chinese tradition as maintaining the ability to draw out negative energy, embodying overall physical vitality and emotional well-being. Jade is also ideal for heart chakra opening, boosting prosperity and bringing good luck. Ever since I spotted them gracing the headlines of all my favorite beauty blogs, I had to add one to my crystal kit. These bad boys are beneficial for smoothing fine lines and wrinkles, reducing puffiness and inflammation, and generally makes your face looks bright, awake and relaxed (all while getting in that feel good face massage). I keep mine in the refrigerator for an added morning wake-up boost and use it just after I moisturize in the morning.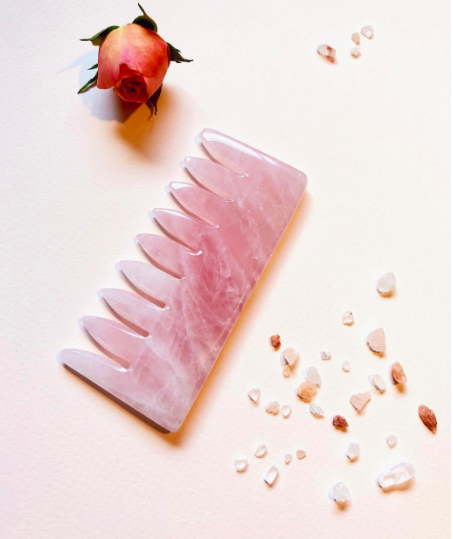 Photo: Crown Works Crystal Comb in Rose Quartz
While scrolling through social media, I recently discovered the most stunning comb I've ever seen. I literally gasped — was that Rose Quartz? Anyone who knows me knows I can never have get enough of this dreamy pink stone. I expressed zero self-control and knew I needed to take my self-care to the next level. With my very own crystal comb, I found an entirely new way to work on releasing heart chakra tensions by connecting truly to my highest Self. The process of meditating with this stone not only allowed me to relax further and enjoy my end-of-day routine but wholly opened my crown chakra so that I could physically feel the strands of my tangled heartstrings to find another release. The comb kit contained so many personal, extraordinary little details, including the accompaniment of a key affirmation stating: "The past is healed. I open myself to love and light. I am love."  After using it several times, I feel a centered flow of energy, I can focus on self-love and regularly refill my Thank Bank.
Read this now: Why Moonstone Is the Ultimate Crystal For Self Discovery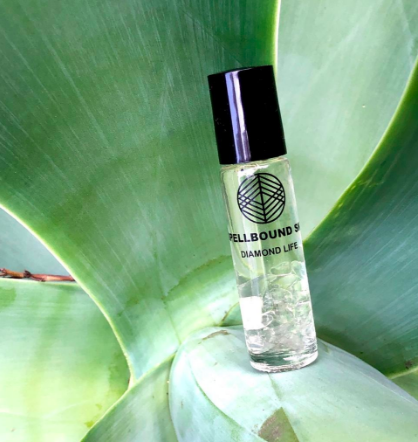 Photo: Spellbound Sky Essential Oil Potion in Diamond Life
One of my favorite places on the planet is the magical realm of Spellbound Sky. Located in this hip neighborhood of Silverlake in Los Angeles, the retail space is decorated with disco balls accented by a six-foot unicorn. From crystals, candles, jewelry and the forever essential oil potions, it has always been my primary source for everything ritualistic. Made in-store using an unscented coconut oil base, each specific potion is thoughtfully created using a layer of well-composed oils with a handful of specific crystals to further raise the vibration of each fragrance. My personal favorites are the Diamond Life, infused with clove, frankincense and Quartz crystals to amplify intentions, and because, let's be honest, who doesn't want a diamond life? My other favorite choice is Love Force (obviously), filled with Rose Quartz, ylang-ylang, rose and sandalwood essential oils.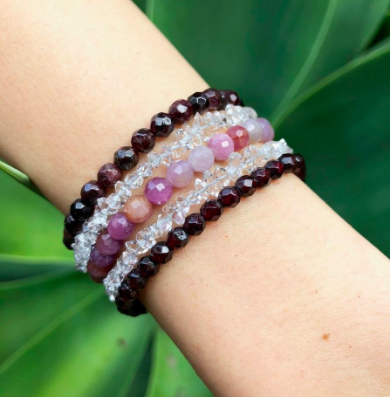 Photo: Wax & Wane Bracelets; Garnet, Herkimer Diamond and Ruby
The quickest, most natural, and the most glamorous way I've found to bring crystals into everyday life is by wearing them. My arm candy is always evolving and changing based on my mood, where I am in life, what I want on a particular day, or just by what makes me feel most inspired. My go-to bracelet brand is Wax & Wane Jewelry, as the quality, variety, and styles are utterly unparalleled. They have hundreds of styles, shapes, and sizes literally, sourcing the best beads from all over the world. I have adopted countless pieces for my collection over the past several years and am always finding new ways to mix-and-match according to my energy each day not to mention, gifting them regularly. The stack I am currently crushing on has a Ruby centerpiece embodying passion, confidence, goal setting and encouraging the visualization process. I paired that with two Herkimer Diamond bracelets, each an extremely high vibrational stone used for gaining guidance from spirit guides, spiritual evolution and accessing the true purpose of your soul. These three are sandwiched between two garnet bracelets, one of my all-time favorite energies to work with, embracing a passionate, motivated mindset to spark a flame to kick down goals while keeping you grounded so you don't burn out. This combo also has a little bit of a sexy vibe, to keep confidence levels high and the productivity train moving!
Read this now: The Crystals You Need To Make Summer #Goals
With so many ways to introduce crystals into your life, the most important thing to remember is you must choose the path that inspires you, noting there is no way to do it wrong. Wear and use as many or as few crystals as you want. It is beneficial to have a directed stream of focus or a colorful array of energies — whichever route feels most harmonious to you in the moment. Embrace the energies that feel right whether it's encouraging, comforting, energizing, protecting, and any others which speak to you. Trust your intuition, and let unlimited possibilities be your guide.—Margaux Perrier 
Margaux Perrier is a writer, jewelry designer, and creative. Find her on Instagram.
Photo: Derick Anies on Unsplash