5 Must-Have Treats for Magical Babes
Crystals, tarot cards, an astrologer on speed-dial…. There are so many sexy spiritual accessories that sometimes it's hard to know where to begin. What do you really need, and what is more of an unnecessary luxury?
 
While a fully decked-out altar looks lovely on Instagram, it won't necessarily make you happy. She who dies with the most crystals still dies! So, as much as I love "stuff," I'm always happiest spending my money on experiences, or things that connect me to something greater.
 
Here's what that looks like for me…
 
1. Fresh flowers
A bunch of roses or tulips is not a luxury! They cost about the same as an oversized drink from your favorite caffeine corporation, and they will give you much more joy. I always have pink roses on my altar, a purple orchid on my coffee table, and—often—a bunch of tulips in my living room. They remind me of the beauty that is all around us (if we will just open our eyes and look), connect me to the earth, and bring a beautiful spark to my home. They are worth every penny and more.
2. An aura photo
If you don't know what your aura looks like, how can you live with yourself?! Get thee to an aura photographer! If you're in New York City, get down to Chinatown and visit Magic Jewelry for a quick photo (see mine below!) and a reading that will blow your mind. The shot, which shows your aura—a rainbow of colors that can help decode what you're projecting in your everyday interactions—is a great visual example of how there's so much more to you than meets the eye. Not in NYC? One of my dear friends Christina runs a traveling aura photography studio called Radiant Human, and her photos are to die for. Beloved by the fashion set, her aura portraits are so beautiful they're worth framing.
3. A magical manicure
Our hands are the very tips of our body: They are what we use to create, to touch, to receive information. They are the primary way we send energy from our body into the universe. We communicate with our hands all day—typing messages on our phones and computers, gesticulating, and adding flourishes to our body language. So here's the deal: a sparkly, gem-encrusted (like my crystal-studded one, below), or otherwise fabulous manicure actually emphasizes the energy you're putting out. When you honor your hands, you are honoring yourself and your expression. A magical manicure makes you more mindful of what you're about to make manifest. And I am convinced that I am a better writer when my manicure is on point!
4. A bright wallet
Your wallet is your ultimate symbol of abundance. So what is it saying? If your wallet is old, ripped, overstuffed, or (even worse) nonexistent, how does that vibe translate to your life? And in what way is that manifesting in your finances? Yeah, I see you there, gulping nervously as you think about the stained wallet you've been using for the last five years! It's time to clear it out and get a swift upgrade. Don't worry, it doesn't have to cost your weekly paycheck, like the gorgeous GG Blooms number below. I have an iridescent pink faux-reptile skin wallet from Georgia Mae that I adore. In addition to bringing me untold amounts of happiness, it also send out great money vibes!
 
5. A radical self-love routine that works
I left the most important one for last. It's essential to figure out what you need to make you happy! know that if I skip my meditation practice, don't work out (or at least stretch), ignore calls from my friends, and refuse to do something creative, I'll sink into a deep slump. We need to top up our emotional tank every single day: The effect is cumulative!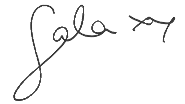 Want more spirituality, mysticism, and advice for bringing your spirit to the next level of awesome? Follow us on Instagram.