Top 10 Careers For Gemini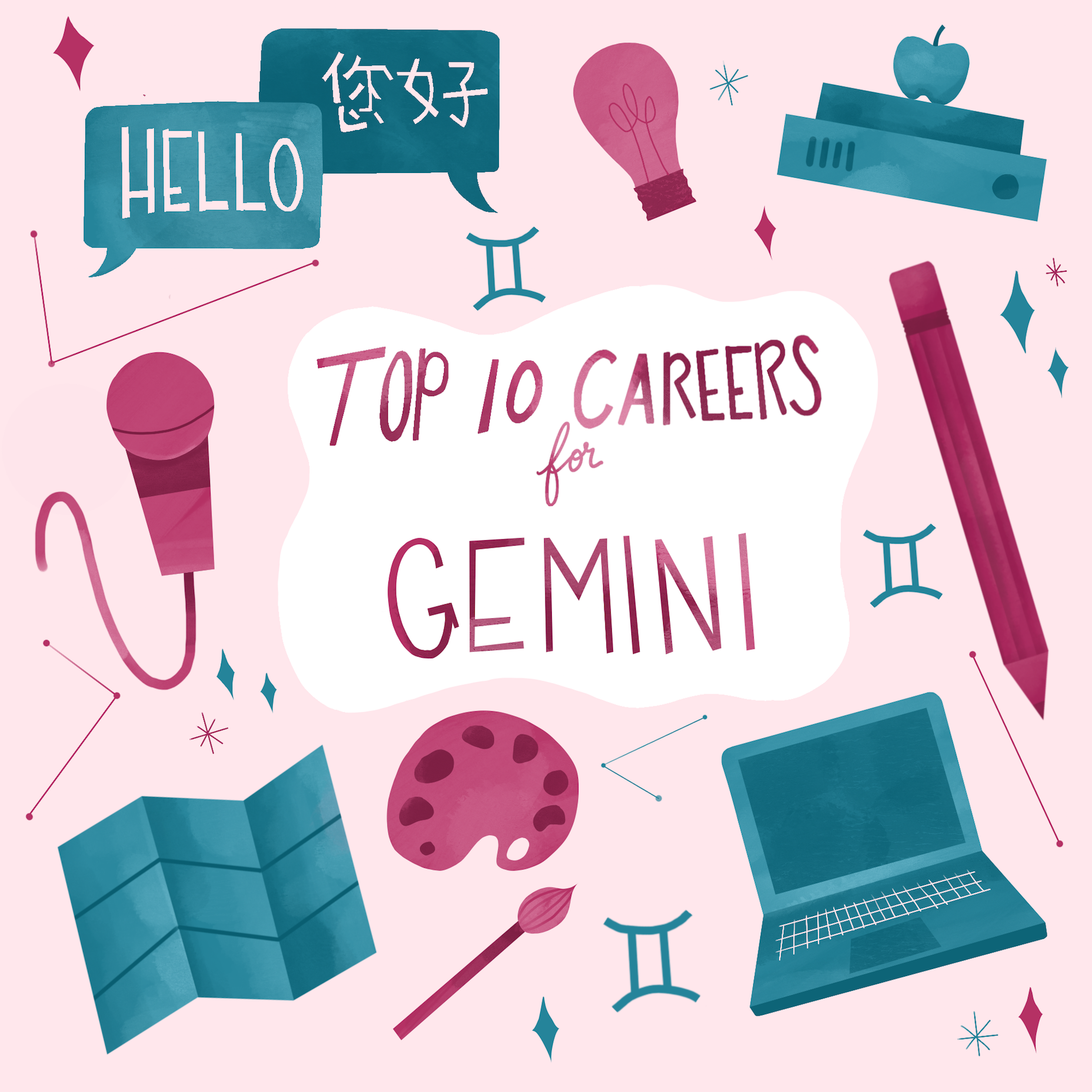 Gemini is probably the most social and flexible sign in the Zodiac (thanks Twins!). They abhor repetitive work and are not suited to pushing paper or sitting behind a desk for hours on end. Careers that provide a social outlet and a lot of variety will keep this Air sign happy. And while their willingness to try anything makes them a good team player, it also means they tend to change careers a lot. Gemini likes having options, flexible goals and the opportunity to express their ideas.
Understanding Your Birth Chart
Read on to see which careers are best suited to Gemini.
1. Journalist
Ever curious Gemini likes to get to the root cause of a story or idea and will dig until they find it out. Coupled with their knack of great storytelling, this sets them up to make great reporters and investigative journalist. Other professions that fit within this realm include: Detective, Researcher, Anthropologist, Copywriter
2. Translator
Thanks to their love of conversation, Gemini natives often find that knowing one language isn't enough. These silver-tongued devils are charming and clever and encountering new people in foreign situations makes this profession fun and challenging. Other professions that fit within this realm include: Foreign Language Teacher, Ambassador
Read this now: Fun Facts About Gemini
3. Talk Show Host
Gemini natives love to talk, are lively and entertaining and have a gift for the art of conversation. Natural in almost any social situation and are never at a loss for words, they'll find career success in broadcasting, and in particular radio and television talk shows. Their curiosity helps them seek knowledge and understanding from their guests and share it with the world. Other professions that fit within this realm include: Therapist, High School Counselor
4. Public Relations Executive
Agile and manipulative, Geminis are talented spokespeople. Whether they are organizing a fundraising event or orchestrating a communications plan, they know how to multitask with flair and verve. Other professions that fit within this realm include: Blogger, YouTuber, Marketing Executive, Ad Salesman, Communications Director
5. Writer
While a novelist works very much alone, the world of ideas, characters and storytelling will keep them engaged and connected to their project—plus there are writing groups to join where they can share all of their ideas with like-minded writers. Other professions that fit within this realm include: Blogger, Content Writer, Journalist
6. Marketing Manager
From tracking the buying habits of consumers to creating an ad campaign, this field is well suited to the big ideas of Gemini. They're fascinated with the behavior and habits of people, human nature, and statistics. Other professions that fit within this realm include: Analyst, Art Director, Researcher, Statistician
Read this now: Gemini Celebrity Stars
7. Engineer
Because Gemini understands science and how it works in the real world, they can use their creative ideas, coupled with proven scientific methods, to help tackle problems. Other professions that fit within this realm include: Architect, Computer Programmer, Electrician
8. Tour Guide
Gemini loves to be in the know, and this profession allows them to lead a group of people who need to be transported from place to place. They love to talk and share their local knowledge, and interesting landmarks and sights along the way to provide easy fodder. In their spare time, they can compile all kinds of interesting facts to entertain their travelers. Other professions that fit within this realm include: Museum Director, Boat Captain
9. Comedian
Masters of a host of accents and a repertoire of faces, Geminis can amaze and entertain their friends for hours. They are also not a shy bunch so getting up in front of a crowd is an easy ask—they've had plenty of practice as the class clown growing up. Other professions that fit within this realm include: Comedy Writer, Comic Book Author, Actor
Read this now: How To Make Money, Based on Your Zodiac Sign
10. Teacher
This is the quintessential job for Gemini. They get to talk all day and pass on knowledge to young, impressionable minds. They can indulge in their dual personality and be wacky one day and showcase all sorts of goofy teaching tools and then be a serious the next. And with this ever-changing landscape of classes, each year will bring with it a new set of challenges. Other professions that fit within this realm include: Nurse, Fitness Instructor, Life Coach
Artwork by Marissa Cuevas