Top 10 Careers For Cancer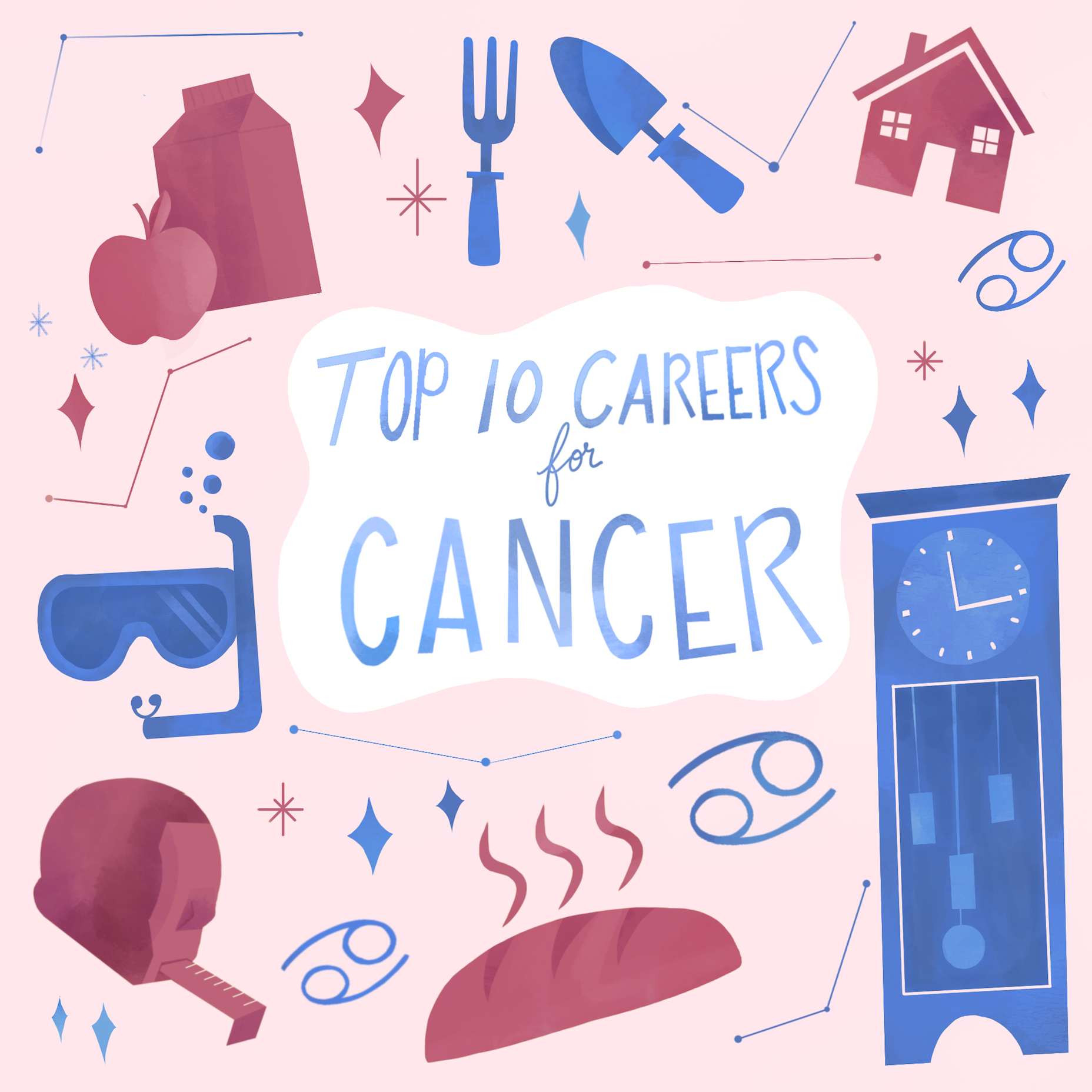 Water sign Cancer is naturally adaptable to a wide range of professions although they flourish in careers that provide both emotional stability and financial security. Thanks to their stellar organizational skills, success is a given whether they are working for someone else or running their own business.
Understanding Your Birth Chart
Read on to see which careers are best suited to Cancer.
1. Antiquarian
A lover of all things old, Cancers love to collect cool objects so it's only natural to turn this passion into a career by starting your own retail shop. This would satisfy your emotional needs as well as cater to a select clientele who would cherish what you also hold dear. Other professions that fit within this realm include: Art Dealer, Docent, Auctioneer
2. Real Estate Agent
Home is where the heart is for Cancer and nothing gives you more pleasure than helping families find a comfortable nest of their own. With your keen perception and listening skills help match people harmoniously with places and prices. Other professions that fit within this realm include: Home Stager, Flipper, Property Investor, Professional Organizer
Read this now: Fun Facts About Cancer
3. History Professor
Seeing into the past through narratives, texts, and art of those who have come before could be made into more than just a hobby for your sign. Cancer's passion and undying interest can land you in a viable career with a library, university, or archival center. As much as you love to learn, you equally love to encourage others to investigate, probe, or write articles and books on well-analyzed historic facts, people, and places. Other professions that fit within this realm include: Journalist, Anthropologist
4. Nutritionist
The realm of health, improving the quality of people's lives through their dietary intake is a natural fit for Cancer. Interestingly, the Crab governs the area of the stomach. You are passionate about taking care of yourself and educating others about the kind of nourishment they are putting into their bodies and what preventative habits can keep them from developing health risks. Other professions that fit within this realm include: Nurse, Fitness Instructor, Life Coach, Gym Owner
5. Architect
Designing the perfect space for others is a natural career choice for this home-loving crab. With your understanding of how important is to feel safe and secure, your attention to detail, from the foundation to the window treatments, means you are providing the best for your clients. You wouldn't live with anything less. Other professions that fit within this realm include: Interior Designer, Furniture Designer, Ceramicist, Engineer
6. Marine Biologist
A true Water sign, Cancer feels at home under the sea. The curious scientist in you wants to know about the plants, animals, and organisms that make up the dynamics of the sea world. The study of the biosphere, climate change, and its impact on the oceans and all living things means continuous and exciting scientific exploration. Other professions that fit within this realm include: Environmentalist, Veterinarian
Read this now: Cancer Celebrity Stars
7. Baker
Is there a better way to comfort and nurture family, friends, and customers than with delicious baked goods? Public demand keeps growing for specialty bread such as whole-grain, gluten-free, and vegan, and you could make extra dough by selling your fabulous cakes, brownies, and cookies. In the business of food, you always know that they'll be hungry again tomorrow. Other professions that fit within this realm include: Florist, Perfumier, Interior Designer
8. Online Business Owner
A natural-born merchant, Cancer could make the perfect career choice selling goods through the booming web industry. Your sign understands the need for quality and value when making purchase decisions, and you pass that along to your customers in the products you represent. Well-organized and strategic in business, you can help design an online catalog or sell your items on auction sites. Other professions that fit within this realm include: Airbnb Owner, Blogger
9. Gardener
Governed by the Moon and her cycles, Cancer natives would do well by Mother Earth by growing plants, fresh herbs, and vegetables or flowers—a natural career choice for the Crab with a green thumb. Other professions that fit within this realm include: Landscaper, Forest Ranger, Botanist
Read this now: How To Make Money, Based on Your Zodiac Sign
10. Caterer
Because Cancer natives are so good at management and organization as well as cooking, developing a career in the world of catering is a likely choice for you. With uncanny accuracy in understanding what your clients want and your talent for developing menus that satisfy and nourish, this career choice is a recipe for success. Other professions that fit within this realm include: Wedding Cake Designer, Chef, Nutritionist
Artwork by Marissa Cuevas