Top 10 Careers For Aries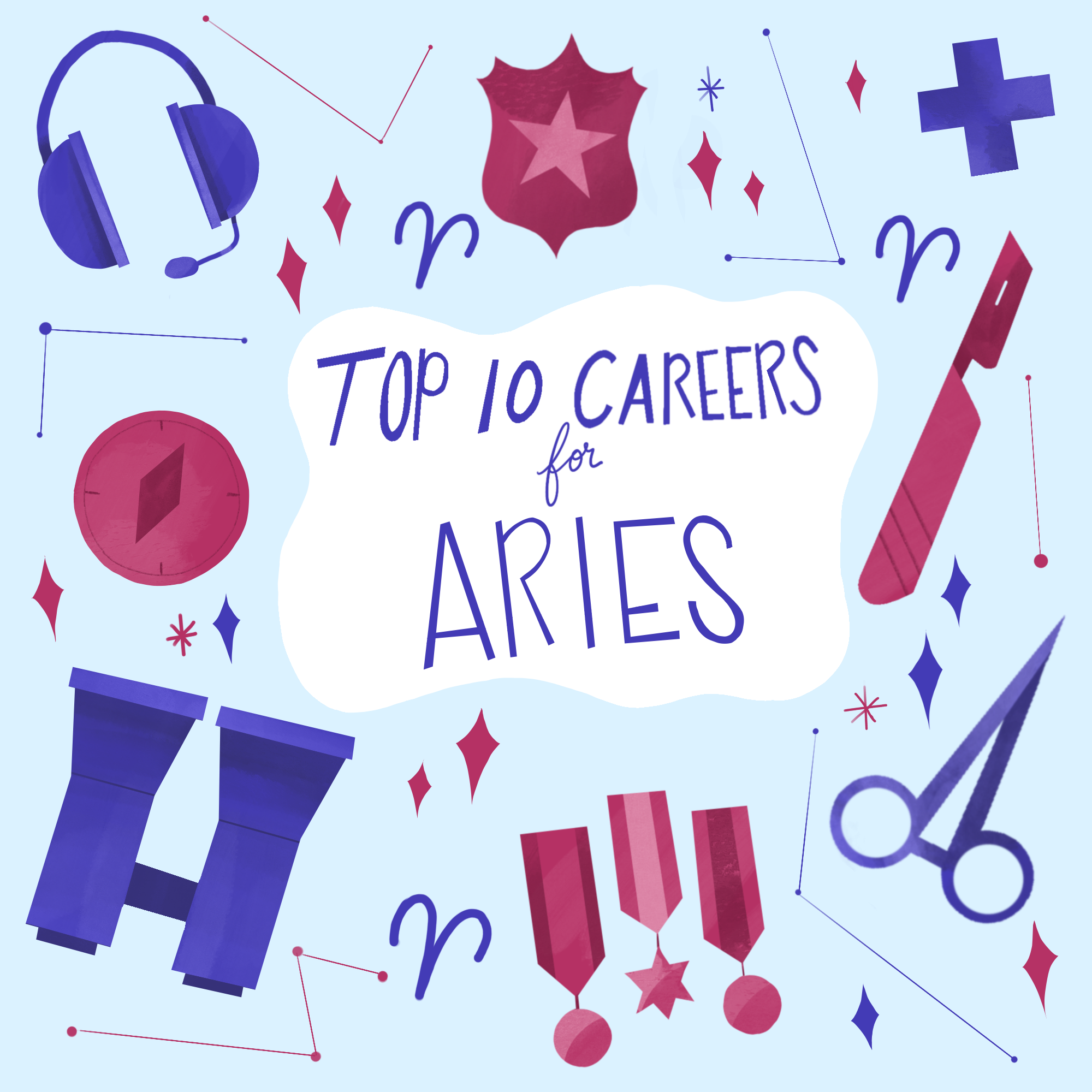 1. Professional Athlete
2. Brain Surgeon
3. Anthropologist
4. Entrepreneur
5. Marine
6. Stockbroker
7. Firefighter
8. Producer
9. Emergency Medical Technician
10. Public Relations Executive
As the most competitive sign of the Zodiac (you are the first sign after all), you love to be first whether it's with a great idea or first to the office to start your day. And it's no secret Aries like to win, and honestly, nothing will stop you from achieving what you've set your eyes upon.
This fire sign is courageous, ambitious and can be impatient but Aries love a good challenge and will typically take charge of any situation. Your biggest challenge? Tempering your fiery attitude with patience is the test of the can-do Aries.
Understanding Your Birth Chart
Read on to see which careers are best suited to Aries.

1. Professional Athlete
No one like to be in the limelight more than you and you have the drive to combine your love of the game with your enthusiastic energy to make it into a full-time career. You're a natural leader so team captain is a logical honor for this fire sign and it's where you shine—taking the glory while driving your team to victory. Other professions that fit within this realm include: Sportscaster, Coach, CrossFit Instructor, Bodybuilder

2. Brain Surgeon
Precision and lightning-quick decisions make Aries excel as a surgical doctor or nurse. You don't waste any time making decisions and have the backup to support your actions and choices. You love the challenge of fixing the most important organ in the body, but it's your no-nonsense leadership and charisma that really earns your colleagues respect. Other professions that fit within this realm include: Sports Therapist, Rehabilitation Nurse, Occupational Therapist
Read This Now: Fun Facts About Aries

3. Anthropologist
If you picture Indiana Jones, then you have yourself an Aries. You love to explore, climb, hunt and take risks that excite you. You have the guts to blaze new trails and a keen journalistic talent to record your findings. You should have no problem publishing your adventures to an eager audience. Is National Geographic calling? Other professions that fit within this realm include: Photographer, Journalist, War Correspondent, Intrepid Tour Guide

4. Entrepreneur
Starting a business is a no-brainer for self-starting Aries. You're at your best in thinking up original ideas and then delegate to others to make your vision a reality. Never lacking enthusiasm or imagination, you'll inspire a top sales team to surpass your goals, yielding you (and them) tremendous success. Other professions that fit within this realm include: Graphic designer, Crafter, Venture Capitalist, App Developer

5. Marine
A career in the military could be your niche in the world. Climbing up through the positions as a subordinate could be challenging for you but going on tours to foreign lands to help defend what is just won't be a problem for your ready-set-go resilience. Other professions that fit within this realm include: Lawyer, Judge, Police Officer

6. Stockbroker
After you've learned the market and gleaned a solid client base with your ambition, you could be a key negotiator for a top firm. Driven by money and finance, you won't mind spending extra hours developing your savvy with training and classes on economics, business management or computers. Good interpersonal communication skills put you in the center of potential high earnings. Other professions that fit within this realm include: Engineer, Coding Specialist, Accountant
Read this now: Aries Celebrity Stars

7. Firefighter
When every second counts, you can count on an Aries to perform and make swift-paced decisions. Fearless, brave, and ethical in dealings with people who are in need of your help, you are also relentless in making sure people are safe. Able to cope with danger and stressful situations, Aries' stamina holds up even under the most rigorous challenges. Other professions that fit within this realm include: Police Officer, Advocate, Lobbyist

8. Producer
A natural creator who can make something out of nothing, you could be very successful in any area of producing from music, film, and radio to fashion or even computer software. Initiating, developing, coordinating, and supervising the inception of an idea to the final product or outcome serve your patient disposition. Other professions that fit within this realm include: Artist, Stylist, Photo Editor, Art Director

9. Emergency Medical Technician
Agility, fine coordination, and rapid response along with the physical strength of an Aries are some of the requirements in this particularly rewarding field. You have the option of progressive levels of training and employment in varied and multiple settings such as technical rescue, industrial, pre-hospital, or tactical response. Emergency-response teams are available 24 hours a day, and it would not be uncommon for the energetic Aries to put in a 50- to 60-hour work week. Other professions that fit within this realm include: Paramedic, Nurse, Hospice Worker, Therapist, Forest Ranger, Exotic Animal Veterinarian, Coast Guard Officer
Read this now: How To Make Money, Based on Your Zodiac Sign

10. Public Relations Executive
Your competitive, problem-solving and decision making skills come into good use when you are trying to beat the competition and get your product noticed by the world. Self-confident, dynamic, and assertive, you naturally possess an enthusiasm for motivating people while those new ideas from your rich imagination continue to amaze even the most staid clients. Other professions that fit within this realm include: Ad Executive, Creative Director
Artwork by Marissa Cuevas