Spring Cleaning Tips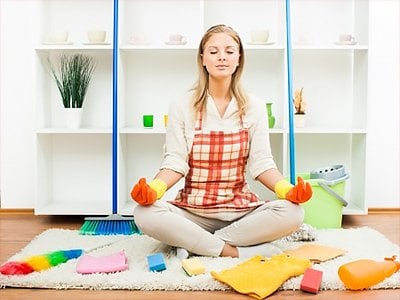 Spring is in the air, and that means it's time to freshen up your home with some good old-fashioned spring cleaning. But this year, why not incorporate astrology into your cleaning routine? By aligning your cleaning habits with the stars, you can infuse your home with positive energy and create a harmonious space that supports your well-being. Here are some astrology-inspired spring cleaning tips to get you started.
Clear Out Clutter
In astrology, clutter is thought to block the flow of energy and hinder personal growth. So, the first step in your spring cleaning routine should be to clear out any clutter that's accumulated over the winter months. Get rid of anything you no longer need or use, and make sure to donate or recycle items that are still in good condition. As you clear out the clutter, visualize yourself letting go of any negative energy or limiting beliefs that are holding you back.
Use Natural Cleaning Products
Many commercial cleaning products contain harsh chemicals that can be harmful to both the environment and your health. Instead, opt for natural cleaning products that are gentle yet effective. You can even make your own cleaning solutions using ingredients like vinegar, baking soda, and lemon juice. Not only are these products better for your home and the planet, but they also align with the natural rhythms of the earth, which is important in astrology.
Open Windows and Let in Fresh Air
In astrology, air represents communication and the exchange of ideas. So, it's no surprise that letting in fresh air can help clear stagnant energy and improve communication within your home. Open up your windows and let in some fresh spring air while you clean. You can also use a diffuser with essential oils like lavender, peppermint, or lemon to purify the air and promote a positive atmosphere.
Clean and Organize Your Bedroom
Your bedroom is a sacred space that should promote rest and relaxation. In astrology, the bedroom is associated with the planet Venus, which represents love and beauty. To create a harmonious bedroom, start by washing your sheets and comforter, dusting surfaces, and organizing your closet. You can also add some decorative touches like fresh flowers, candles, or crystals to enhance the energy of the space.
Sweep or Vacuum Floors
In astrology, the earth element represents stability and grounding. By sweeping or vacuuming your floors, you can clear away any dirt or debris that's blocking the flow of energy and create a more stable and grounded home environment. As you sweep or vacuum, visualize any negative energy being swept away, and visualize positive energy filling the space.
By incorporating astrology into your spring cleaning routine, you can create a more harmonious and positive living environment. Whether you're clearing out clutter, using natural cleaning products, or organizing your bedroom, these tips will help you align your cleaning habits with the stars and create a home that supports your well-being. So, grab your cleaning supplies, put on some music, and get ready to clean your way to a happier and healthier home.