Solar Eclipse In Pisces – Embracing Your Best Self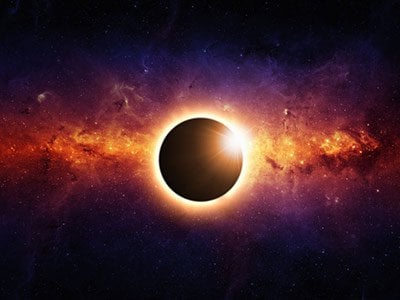 The second Eclipse of the year is Sunday, February 26. This Eclipse has a spiritual connotation by occurring in the mystical sign of Pisces. Even better, like a turbocharged New Moon, it hands us the keys to turn our dreams into reality. Pisces is, after all, the dreamer of the Zodiac.
Contrary to the recent ending you probably experienced, brought by the Leo Lunar Eclipse that happened two weeks ago, this Eclipse offers us a new beginning. It opens doors and possibilities that have been shut or inaccessible until now.
During the next six months, we can all expect to experience a sense of renewal in hoping for a better future as we see some of the negative aspects of ourselves and others fade away. We will also experience better connections and relationships, especially the Water Signs (Cancer, Scorpio, Pisces).
So, how can we make the best of this energy? There are three key aspects to unlocking this Eclipse's magical energy in the days before and after it occurs:
Be humble.
Be understanding – not only with others but also with yourself.
Keep your creative juices flowing. Don't limit your possibilities.
And there are specific things every sign should focus on. Here they are:
Aries
Go ahead and explore the deeper regions of your psyche and perhaps expand your level of conscious awareness.
Taurus
Focus on friendships and your desire to seek new companions, and form more supportive and long-term bonds.
Gemini
Close a door so another one can open for you. There is a great opportunity – go ahead and grab it!
Cancer
It is very important that you think before you act. Under this aspect, you can't take back the things you say and do.
Leo
Let go! Making peace with whatever happened in the past is your key to a better future now more than ever.
Virgo
A relationship is bound to change. You can either hold back or take it to the next level. It's your call!
Libra
You know that area of your life that needs a revamp? Make that change now or the change will make itself.
Scorpio
You have the hots for someone. Enjoy this platonic phase instead of rushing things and regretting it later.
Sagittarius
Focus on making the changes that you want to see in your home life. Balance and harmony should be part of the equation.
Capricorn
An exciting encounter is in your stars, possibly bringing a connection that might deepen in the months ahead.
Aquarius
Sit down and formulate a new budget or financial plan. The Universe is backing you up for a new beginning.
Pisces
Manifesting in your sign, this Eclipse offers you an opportunity to release toxic situations so you can start fresh.
Read More:
An in-depth look at how 2017's Eclipses will affect you
Everything you need to know about Eclipses
Is it safe to travel during an Eclipse?