Daily Horoscope for Thursday, January 18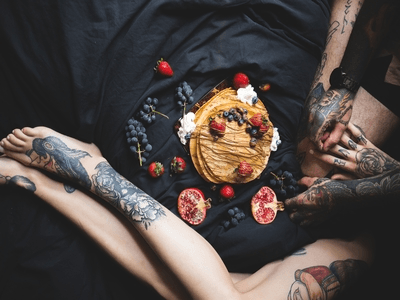 Is this week over yet? There's been a host of plaentary aspects and nope, it's not even Friday. Today, you may be TGIF-ing hard, espcially as Mars and Mercury form a semi-square. This aspect can cause conflicts, disagreements, and short tempers across signs. Your best prep is to know it's coming. The more you cn reign in your short fuse, the better. Don't try to push something that isn't working. Today is a great day for all signs to strike out and focus on solo endeavors. A Mars-Chiron trine boosts your confidence and can help you forge a new path. And as annoying as today might be, and as much as disagreements put you on edge, know that they're not serious, and everything will be back to normal soon. Here, what else to expect for all star signs for Thursday, January 18.
Aries Daily Horoscope
The moon in your social sector encourages cooperation, and the semi-square between Mars and Mercury isn't affecting you as much as other signs. Let others take the lead, wait a second before you speak, and go along for the ride. The more you cooperate and let others take the lead, the more you may discover. Single? It could be a great day for romance, but again, you've got to let go of the "I make the first move" mentality.
Taurus Daily Horoscope 
The moon in the top of your solar chart means you're in the spotlight. It's time to simultaneously trust your intuition but also be aware that people are watching your behavior. Doing the "right" or expected thing may pay off in the long run—especially today. This may mean paying attention to your intuition, but also accepting the reality that you do have to agree with your boss, at least for now, even if your gut says you have a better idea. It's all about finding the balance today, but playing by the rules is how the cosmos wants you to play. Just for today! 
Gemini Daily Horoscope     
You feel good, look good, and could have an excellent day, Gemini! It's okay to focus a bit more than usual on your appearance. It's not being vain. Don't overthink things and don't think taking time for you is selfish. Self-care can crank up your confidence. And give yourslef an extra glance in the mirror and taking a smoking selfie. You're hot and you know it. What's wrong with that? 
Cancer Daily Horoscope
You are so, so strong Cancer, and part of that strength lies in the intensity of your emotions and your ability to be in touch with your vulnerable side. Embrace that. Today may be a day full of emotions and a few tears. This isn't a failure or a setback. This is understandable. The more you feel the feelings, the better. Of course, feel the feelings within reason (don't burst into tears in your boss's office) but do allow yourself to release. 
Leo Daily Horoscope
Leo, you've matured a lot. Today, you're able to separate your ego from issues that are important. Today is a day to bring up big-deal topics with friends and family, and even though it may be uncomfortable, trust that you have the skills, ability, and empathy to carry the conversation. If in doubt, focus on how the other person feels. Breathe. You have all the time in the world.
Virgo Daily Horoscope
Get things done, Virgo! Today is a day where little things take up most of your time, and if you don't appreciate the small moments of the day you love—your daily coworker coffee, a hilarious back-and-forth on IG—then you may feel depleted by end of day. The small things are everything today. Embrace it!
Libra Daily Horoscope
Mars and Chiron connect, putting a professional challenge in your path. You can absolutely excel at this challenge, but you have to adopt some pretty stringent work habits. You may feel like work has taken over your life today, but you will find the balance you need and crave. For today, know that the responsibilities heaped on you are a compliment and a sign of how much the higher-ups trust you. 
Scorpio Daily Horoscope
Mars in your sign connects with Chiron, cranking up your confidence. You've always had confidence, but with the moon in your home sector, this confidence is more anchored in who you are—it's a surety based on a very deep rooted sense of self, and is a very powerful tool in negotiations or any interactions today. You rise above the fray in conflicts. Focus on the ultimate outcome instead of being right, and you'll sail through the day, Scorpio! 
Sagittarius Daily Horoscope
You're feeling a lot of antsy energy, and today can be tricky. Projects may come to a standstill, and you may feel like everyone around you wants something from you. This too shall pass. Instead of focusing on the practical stuff, focus on romance and friendships. Life may have gotten too network-y lately, but bring it back to just good people, good times, good fun, and living in the moment. Things will get back to normal by the end of the week.
Capricorn Daily Horoscope
What a golden day,Caps! You may feel like you're being pushed outside your comfort zone, but if the last month has taught you anything, it's that you've got this. You're learning to let go of your rules and schedules, and it's simultaneously liberating and scary AF. Keep on playing at the edge of your comfort zone. You may be going to bed late (if you go to bed at all) but the sun still rises in the morning, and, as you're beginning to realize, it's a beautiful view when you've stayed up all evening. 
Aquarius Daily Horoscope 
The moon in your sign pulls all sorts of emotions to the top of your consciousness, and you may be feeling a lot of sadness about a relationship that seemed to have fallen by the wayside. Feel the feelings, but trust the rhythm of the universe. Doing nothing is your best option. While you do the grand gesture like no one else, this is the week for holding back, letting the emotions unfold, and trustimg in time. But in the meantime, it's absolutely okay to cry! 
Pisces Daily Horoscope
A Mars-Chiron influence casta a spotlight on you, and you may find yourself in demand in the dating world, the professional world, or both? Fight the urge to try to present your "best" self, which may not be the person that they want. The person they want is authentic, messy you! Of course, if you happen to have a date or job interview, groom yourself so you feel good, but don't go overboard. You just as you are is pretty damn special! 
Want more spirituality, mysticism, and advice for bringing your spirit to the next level of awesome? Follow us on Instagram.
Live a Stylish, Magical Life With Horoscope.com's Latest Article: 
Using My Intuition Was the Best (and Hardest) Thing to Happen to My Love Life