Daily Horoscope for Friday March 16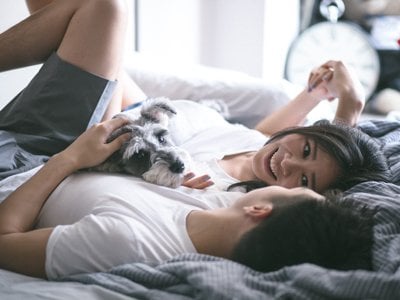 Tomorrow's new moon in Pisces is affecting all signs, and you may feel more sleepy, dreamy, or tuned into your intuition than usual. A new moon is a natural pause; a time to take a break and not push things through. Confusion becomes clear next week. For today, rest and soak up the wisdom of the universe. Here, horoscopes for all Zodiac signs for Friday, March 16.
Want 2018 to be the best year ever? Start prepping now with your 2018 horoscope!
Aries Daily Horoscope
As Mars moves into Capricorn, Aries feels extra ambitious. Mars is your ruler, and you may be running on all cylinders and annoyed by people who aren't on the same page as you. Remember, the new moon isn't a great time to start any new project. Slow down, stand back, and allow things to fully unfold next week. 
Taurus Daily Horoscope 
Today is a smart day to fully know who you can trust before you share sensitive information. It's not as if people are talking behind your back, but they may not be as careful with sensitive info as you wish them to be. When in doubt, keep your mouth shut today.
Gemini Daily Horoscope      
Do you want a quiet weekend or a rager? The new moon may tip the balance to quiet, and unfortunately, there's no in between. Play it safe and choose a low key weekend—you can always crank things up next week. Drama may occur this weekend you're just not ready for. 
Cancer Daily Horoscope
It's a sensitive weekend. Sigh. Doesn't it feel like that's always the case? But the mercurial moon pulls your emotions, and you feel its rhythms more than most. It's a gift and a curse, Cancer, but for right now, take everything you feel with a grain of salt. What you're feeling is real and true, but next week may be the best time to figure out the steps going forward.
Leo Daily Horoscope
Something may seem too good to be true, Leo. It's best to have an eyes wide open viewpoint, and avoid committing to anything without reading the fine print. Remember: If something is the right fit, you will have the time and space you need to think before committing to an offer. Don't feel time pressured.
Virgo Daily Horoscope
You may be feeling like people are demanding the impossible from you. What are you giving them to feed this impression? It may be smart to circle the wagons and spend the day and weekend with people you trust.
Libra Daily Horoscope
Oh man, you are bending over backwards, but the more you give in to absurd demands, the more people will demand stuff from you. Name your boundaries and be firm. If it does result in the end of a relationship, then the relationship likely was not worth it to begin with. 
Scorpio Daily Horoscope
Fiery Mars ignites your argumenatative side, and it may have a point—there's something that's no longer serving you, Scorpio. You may need to confront someone, but do so with one piece of information—no need to bombard, especially if you're trying to reach a resolution. 
Sagittarius Daily Horoscope
Cheers to the freakin' weekend—but you may have one more test, Archers. You need to firm up all your bravery and stick to some boundaries, and realize that being the first to bring up an issue is a way to connote strength. 
Capricorn Daily Horoscope
White lies are your friend today. You like being honest, and consider it an anchor of respect in relationships, but today, preserving the feelings of someone else may be more important in the long run. Before you spill the truth, ask yourself what the benefit will be in the long run, as the white lie may be a far better option. 
Aquarius Daily Horoscope 
Today is a great day for socializing and romance. You may need to spur on plans, but avoid the urge to go home tonight. You will be energized being surrounded by other people, and may need that swirling energy to pull yourself out of a funk.
Pisces Daily Horoscope
You're exhausted, run down, and may need a break, Pisces. Take it! No one is forcing you to go out, and turning down an invite may be a valuable form of self care. But don't isolate yourself. Spending time at home with a close friend or relative coul give your soul the nurturing it craves. 
Make 2018 count with your premium, exclusive horoscope!
Read your weekly horoscope here. 
Read yesterday's horoscope here. 
Want more spirituality, mysticism, and advice for bringing your spirit to the next level of awesome? Follow us on Instagram.
Live a Stylish, Magical Life With Horoscope.com's Latest Articles:
The Easy Trick for Owning Your AM
A Magic Spell Anyone Can do To Achieve What They Want 
Why the Fool Card Matters In Tarot and Why to Memorize Its Meaning
Star Crossed Love: Ditch the List and Find the One
This Crystal Can Help You Become a Goddess