Capricorn Celebrity Stars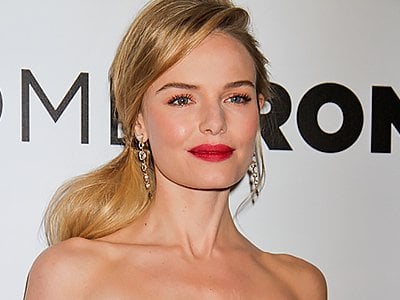 Capricorns are tough! The Mountain Goat can persevere over any obstacle, since Capricorn is ruled by Saturn, the planet that bestows inner strength and fortitude. Capricorn natives are of the Cardinal Quality, and success means a lot to them. Cappies are also of the Earth Element, and they are very practical souls who possess loads of common sense. They also have very deep and lusty passions and desires, which they often keep hidden. Capricorns are loyal friends and monogamous lovers, and if you are lucky to win the trust of a Mountain Goat, then you are fortunate indeed.
Kate Bosworth (January 2, 1983)
Capricorns devote themselves to their activities. Kate Bosworth loves horses, and excelled as an equestrian when she was a teenager. Kate's sign is ruled by steady Saturn. Her riding skills helped her win a role in the movie The Horse Whisperer in 1998. Kate is ambitious. Capricorn is one of the Cardinal Signs. Kate grew up on the East Coast, but moved to Los Angeles in 2001 to concentrate on her acting career. She achieved her goal the following year, winning a role in Blue Crush. Success is important to Capricorns. Kate followed up her big break by starring as Sandra Dee in Beyond the Sea in 2004. Kate has said in interviews that she doesn't choose comfortable roles. She starred in the edgy movie Straw Dogs in 2011. Lovely Kate has one blue eye and one hazel eye! She's also a model who's been featured in ads for Revlon and Calvin Klein. Kate's is an Earth Sign. She possesses strong passions. She's dated luscious actors, including Orlando Bloom and Alexander Skarsgard. She's currently in a relationship with director Michael Polish, who directed Kate in Big Sur, due out 2012.
David Bowie (January 8, 1947 – 2016)
David Jones reinvented himself as glam rocker David Bowie. This beloved lad from England made his name in the music world in 1972 with the album The Rise and Fall of Ziggy Stardust and the Spiders from Mars. David had big hits with the songs "Space Oddity," "Fame," and "Let's Dance." Capricorns are realists. David knew publicity is a key ingredient in show business success. David changed his image and his style many times over the decades. Capricorns can be very traditional. David met superstar model Iman in 1990, and they married two years later. They had a daughter, Alexandria. David also had a son, Duncan Zowie, from a previous marriage. David was an actor as well as a singer and musician. He starred on Broadway in The Elephant Man, and in the films The Man Who Fell to Earth and Merry Christmas, Mr. Lawrence. He released his last album, Blackstar, in 2016, just two days before he lost his battle with cancer.
Ryan Seacrest (December 24, 1974)
Ryan Seacrest, the host of the hit TV show American Idol, wanted to be an emcee since childhood. His mother, Connie, said in an interview that Ryan had a toy microphone when he was a four year old in Atlanta. Ryan preferred pretending to be an emcee to playing with toys! He has said he was ambitious from his teenage years. Capricorn natives are known for their determination. When he was 16, Ryan obtained an internship at WSTR-FM, one of Atlanta's top radio stations. He quickly learned the business, and the station offered him his own weekend radio program. Capricorn is a Cardinal Sign. Ryan devotes a lot of effort to his career. He hosts two syndicated radio shows, On Air with Ryan Seacrest and American Top 40 that reach an audience of millions. Saturn, the ruler of Capricorn, is associated with longevity. Ryan has stated he wants his career to have staying power. Ryan's is an Earth Sign. He's an astute businessman who negotiated a $21 million contract with the E! cable channel in 2006. Ryan has dated many beautiful women, and is currently involved with performer Julianne Hogue.
Denzel Washington (December 28, 1954)
Denzel Washington has made the most of the opportunities given to him in life. Denzel's is a Cardinal Sign. He has worked hard to become successful, and his efforts have paid off handsomely. Denzel grew up in Mt. Vernon, New York. At 14 he started hanging out with the guys in his neighborhood and getting into trouble. His mother, Lynne, packed him off to boarding school and got him back on track. Denzel has said his mom's decision changed his life's direction. He went on to Fordham University, where he majored in theater. Denzel's first job was in summer stock productions. Capricorns don't mind starting at the bottom of their profession. Denzel's talent quickly became evident and he won a role on the hit 1980s television series St. Elsewhere. Capricorns are ambitious! Denzel has won two Oscars, two Golden Globes, and a Tony. Commitment matters to Capricorns, and Denzel sticks to his promises. He and his wife, Pauletta, have been married since 1983 and have four children. Capricorns believe in putting their money to good use. In 2011, Denzel gave a $2.25 million gift to Fordham to endow a theater professorship and establish a scholarship for undergraduates.
Mary J. Blige (January 11, 1971)
Resilient hip-hop and soul singer Mary Jane Blige certainly knows all about survival, one of the main goals of all Capricorns. She has risen above her life circumstances, and similar to her Zodiac symbol of the hardy Mountain Goat, she has managed to overcome many obstacles in her life, including sexual and physical abuse, drug addiction, and depression. Truly she has climbed many mountains. Mary wrote the song "I Can See in Color" for the movie Precious, a tale of a young girl from a housing project who struggles to better herself and her life. Mary has won numerous Grammy Awards for her singing and songwriting talents, and sold more than 50 million records! Capricorns never give up, not on themselves and not on life, and Mary never stopped persevering and fighting her way out of her difficult life scenario. Capricorn natives are of the Earth Element, and Mary has no hesitation to tell it like it is, in both her interviews to media and in her song lyrics.