Horoscope Content For Your Site Or Media
Are you looking for daily horoscope content for your web site, magazine or other media? Horoscope.com is your one-stop solution, offering an extensive variety of horoscope and tarot content. We offer several easy solutions to meet your needs:
1 - Free Sun Sign Iframes:
To save time, choose from a variety of pre-formatted link modules that are easy to implement on your pages. A simply copy/paste of the code into your page, will do the trick! Pick the layout that best fits your site's colors and style. It's that easy!
Option 1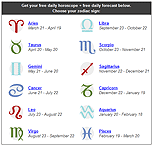 Or just frame this page!
Option 2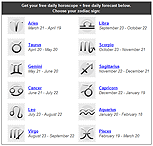 Or just frame this page!
2 - Free RSS Horoscope Feeds from Horoscope.com:
Horoscope.com offers free RSS feeds to keep you updated with your latest horoscopes. Subscribe today:
3 - XML Feeds and custom solutions for professional websites:
Take advantage of our broad selection of quality content for your own site. Whether your objective is to attract new users, to improve user satisfaction or user engagement on your site, we will work with you to create the right content package to meet your strategic business needs.
Please complete the following form: