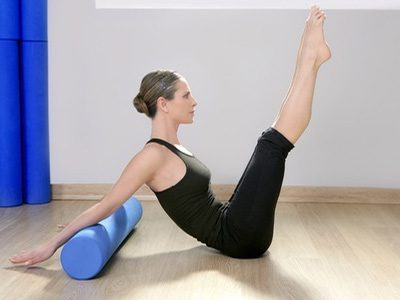 Secret ways to ease those common Sag pains...
Research shows that performing the simple act of foam rolling before exercise can reduce muscle fatigue and soreness. It can also make workouts seem easier.

Rolling after your workout eases aches by improving blood flow and improving muscle and joint function, too. Try this to soothe those achy Sag-ruled quads!

Position the roller under upper thighs.
Relax and straighten legs.
Drag legs together and apart slowly (like you're doing horizontal jumping jacks).
Repeat three to five times.
Reposition roller halfway down thighs and repeat.
Reposition roller to just above the backs of knees and repeat.


Celebs
Posted on July 21, 2016
Why is the movie-going public so transfixed by Sag star Scarlett Johansson? It could be her...
More »

Your Sign Rocks
Posted on July 19, 2016
Just like our sign, our constellation in the sky is just as unique in many ways. Here's all you...
More »

Hot Topics
Posted on July 15, 2016
Sagittarius is one of the most fun-loving signs of the Zodiac. You're always up for adventure,...
More »

Beauty & Style
Posted on July 13, 2016
Unfettered and uncluttered, you want your beauty products multifunctional and simple.
What...
More »

Love & Sex
Posted on July 11, 2016
All signs seek partners living in alignment with their highest truth, but perhaps none more...
More »

Celebs
Posted on July 11, 2016
Former child star Mayim Bialik (Blossom) is the brainiest nerd on the nerdiest show on television....
More »