Celebrity Astro Profile
Heidi Klum
Born: 6/1/1973 - Bergisch-Gladbach, Germany
All the typical Gemini traits - versatile, intellectual, agile - are represented in Heidi, and then some. With a total of five aspects in this quick-witted and sociable sign, she's a veritable Gemini poster girl! And what else? How about model, actor, television host, businesswoman, fashion designer, television producer, artist, and singer, to name a few of her successful pursuits. When you add the fact that she has four beautiful children, her life seems pretty charmed.
Born the same day:
Brian Cox
Morgan Freeman
Marilyn Monroe
Sarah Wayne Callies
Alanis Morissette
Teri Polo
All News about Her
Gemini Heidi Klum is the master of costumes!
Is there anything that Heidi Klum isn't awesome at?! She's my favorite supermodel because she's the epitome of all things Gemini shines at!

Her Halloween costumes always make headlines, and for good reason. She must spend months conceptualizing, designing, and executing her elaborate, unique frocks. Or maybe not - it would be no surprise for a Gemini like her to throw something jaw-dropping together overnight!

My favorite costumes she's worn:
1. Sexy Betty Boop (2002) - she probably started the trend to sex up any costume with this!
2. The Garden of Eden apple. This 2006 gem was a true original.
3. 2011's out-of-her-skin. The makeup must have taken all day! Sexy, weird, and gross all in one.

To be fair, I will call out her worst. Let's just blame her less-amazing twin on these:
1. Her 2000 S&M getup. Too predictable.
2. The odd golden gladiator in 2003. Too much, too confusing.
3. Lady Godiva in 2001. That horse just looked traumatized.
Daily Planet Overview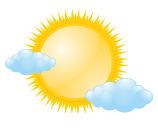 Planetary Index: 4/5
Card of the Day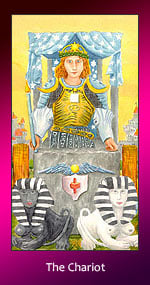 The Chariot
The Chariot symbolizes enthusiasm, competitiveness, and triumph. Success and victory are achieved by employing all powers at one's disposal... More »