February 2023 - This month, you're well prepared. There's a full moon in Leo on February 5, and Cancer, more money is finding its way into your accounts. Now you want to be quite vigilant about the extra funds. It's so easy for you to give money to your family for whatever they need, but now it's a good idea to set a little aside for yourself. You'll have peace of mind when you have a good, solid emergency fund.

The sun conjoins Saturn in Aquarius on the sixteenth. Cancer, the terms you are getting for a loan or mortgage refi aren't as sweet as you were originally told. Now it's time to do some negotiating or be willing to take your business to another bank. It's possible you need to play hardball right now.

On February 19, there's a new moon in Pisces, and Cancer, you might be working with a government agency to get your credentials in line. It's possible you're trying to update your passport for a business trip you'll be taking overseas. Or maybe you're registering with your state to show them that you're a licensed physician, massage therapist, or business owner. This is your time to be seen as official.
Find out more about your sun sign. Speak to an astrologer for a 1-on-1 analysis. Click now — get your first reading for just $1.99!
More Horoscopes for Cancer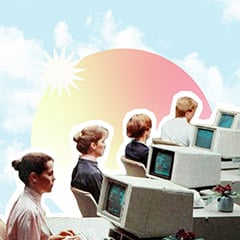 Personalized Career Horoscope