November 2022 - The month of November brings a lot of distractions. On November 8, there is a total lunar eclipse in Taurus making an exact conjunction to Uranus and a square to Saturn. Aquarius, some issues at home really take your mind off your job. And this could cause you to drop the ball on an important meeting or miss a deadline. You can forestall this trouble by letting your supervisor know that you have to attend to other important matters.

On the nineteenth, Mars in Gemini makes a square to Neptune in Pisces. Aquarius, a risky venture that you gambled on could pay off. An investment or a project you've been working on may be now producing some real results. This is giving you something to brag about.

November 23 brings the new moon in Sagittarius. Aquarius, a professional organization could be extremely helpful right now. It's possible you're doing some networking to build your business and you're getting leads. Or you might try going on some coffee dates with people in other departments at your company to see if there are going to be some openings soon. This could lead to more business or a promotion for you shortly.
Get to your authentic self with the guidance of a psychic advisor. Click here to get the 1st 3 minutes of your reading free!
More Horoscopes for Aquarius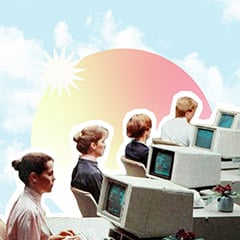 Personalized Career Horoscope