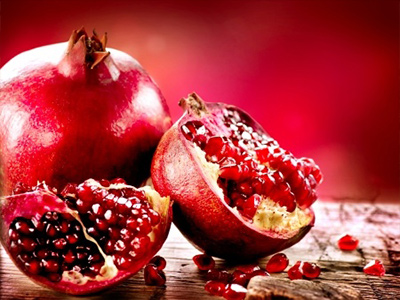 Pomegranate is Ram's beautifying fruit…
Ruled by red planet Mars, Aries can find health benefits in all red fruits and vegetables. One of my favorites is pomegranate. A delicious fruit that is not easy to extract from its shell, but it does contain more antioxidants than blueberries, cranberries and dark chocolate.

With an impressive nutrient profile, pomegranates are a good source of fiber, protein, vitamin C and potassium; offering protection against inflammation, high blood pressure, arthritis, heart disease and even cancer.

Whenever it is in season, you can eat it with yogurt, add it to your salads or just eat is by itself. If you can't find it or it's not in season, look for pomegranate juice. You can also buy pomegranate oil-based beauty products. The powerful antioxidants in pomegranate oil fights outdoor agents and brightens skin by bringing back its natural glow and radiance!

Hot Topics
Posted on January 13, 2017
The new year is almost here! How ready are you, Aries? I bet that, like me, you are more than ready...
More »

Love & Sex
Posted on January 9, 2017
If you're dating an Aries, you must know you're playing with fire. While it's a lot of fun to be...
More »

Beauty & Style
Posted on January 4, 2017
Busy, busy, busy - who has the time for a complicated, multi-step skincare routine? Not you! And...
More »

Love & Sex
Posted on January 4, 2017
Love is, indisputably, the most amazing thing in life. What other love quotes do you swear by,...
More »

Hot Topics
Posted on January 4, 2017
Cardinal quality, Mars ruled, fire element, First House - is there anything about Aries that...
More »

Your Sign Rocks
Posted on January 4, 2017
The planet of action, Mars is the ruler of Aries. Whenever life doesn't seem to be going our way at...
More »